A Tweet from the City of London Police, yesterday:
Traffic on @TowerBridge is currently at a standstill due to an ongoing protest.

Please avoid the area if possible, and check back here for updates.
The protest did not generate any media coverage, but a livestream shows that it was the tail-end of a QAnon-adjacent anti-Satanic Ritual Abuse march led by Jeanette Archer, who has become a familiar figure at recent anti-vax events in central London. The group of a hundred or so had gathered in Bow Street, adjacent to the Royal Opera House, and then proceeded along to Freemasons' Hall, where they harassed security guards, covered the door in stickers, and made speeches in doggerel ("…all your evil deeds / now God has called his people / to bring you to your knees").
They then moved south down Drury Lane to Aldwych and across Waterloo Bridge, and then east along the South Bank towards Southwark Cathedral. People dining al fresco were subjected to a barrage of lurid claims shouted through megaphones, including "paedophile pizza place" outside a Pizza Express. Further speeches followed outside Southwark Cathedral, during which sceptical laughter from passers-by was met with verbal aggression. They then made their way to City Hall, base of London Mayor Sadiq Khan. Here, there was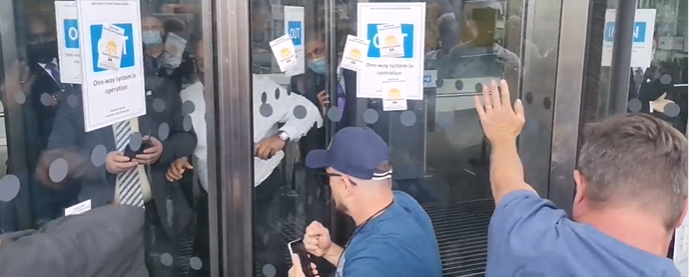 a half-hearted attempt to break in, January 6 style, but security guards were unmoved by the promise that they would be held accountable for "crimes against humanity" for protecting Khan and the attempt fizzled out. By the time the mob had reached Tower Bridge, they had been on the move for several hours.
A leaflet given out by the group advertised Joan Coleman's notorious RAINS list, and referred readers to an online interview between "SRA expert and wrongfully imprisoned Wilfred Wong and EX DC Jon Wedger" – Wedger has also previously interviewed Archer, but in recent weeks he has been conspicuous by his absence at protests he has done so much to fuel. Wong was recently convicted of abducting a child a knifepoint during a botched "rescue" that he disavowed in court, shamelessly lying that he had simply been accepting a lift from his co-conspirators.
The leaflet also included a quote taken from a recent Facebook post by the chartered psychologist Dr Jessica Taylor:
Satanic sexual abuse is real I've worked with victims myself. I've also worked with covert terms who investigate these cults and organised groups.

I hate the way people invalidate and ignore victims of satanic ritual abuse – so I'm publicly standing up.
Taylor did not have any involvement in the protest, although one of the speakers outside Freemasons' Hall identified herself as a psychotherapist and told the crowds that SRA has academic standing, with books having been published by Routledge.
Filed under: Uncategorized | Leave a comment »