From Media Matters:
In an August 16 editorial, The Washington Times baselessly claimed that Imam Feisal Abdul Rauf, who is leading efforts to build the Islamic community center in New York City, "has supported" Hamas' "cause." The Times offered no evidence to support its claim.
Perhaps the Washington Times should give us a full account of Rauf's questionable religious associations. For instance, the picture below shows Rauf speaking at a "Global Peace Festival" event in Malaysia in 2008; the GPF is an outreach programme of a controversial New Religious Movement whose leader has served time in prison in the USA: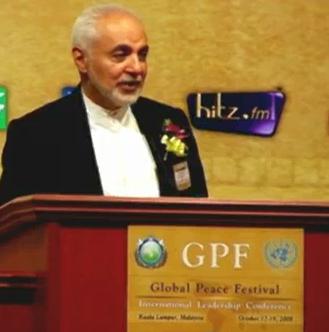 That religious leader, of course, is Rev Sun Myung Moon – who founded the Washington Times to promote his political and cultural views, and whose son Preston Moon chairs both the Washington Times (although he's currently trying to sell it off) and the GPF. According to a report in Unification News at the time (in a column directly below a picture of Preston Moon):
Speakers at the [GPF] International Leadership Conference called for a greater understanding between Islam and other Abrahamic faiths. "We share the same two commandments," said Imam Faisal Abdul Rauf of the Cordoba Initiative. "We are to love God, and to love our neighbor as ourselves. Today, everyone is my neighbor. But we are not actually living the commandments." Rauf, a leader of US/Muslim dialogue, heads a mosque near Ground Zero in New York, and is author of the book What's Right with Islam.
It's not known whether Rauf has one of Rev Moon's "Ambassador for Peace" awards, but he appeared on a video that was shown at the Seventh Annual Ambassadors for Peace Awards Banquet. Apparently, his heading "a mosque near Ground Zero" wasn't particularly controversial at that time.
Filed under: Uncategorized