CNN's Connect the World is broadcasting a three-part series on child-witch stigmatisation; as with other reports on the subject (most notably the documentaries for Channel 4 I blogged on here and here), there are depressing and poignant scenes of battered and bewildered homeless children who have been cast out by their families in Nigeria, thanks to pastors who teach that misfortune can be attributed to children who are supposedly witches.
The first part contained input from Sam Ikpe-Itauma, who runs a hostel for stigmatised children, as well as Justin Bahunga of Africans Unite Against Child Abuse (which has dealt with ten cases of witchcraft-related child abuse in the UK so far this year; I blogged on the UK situation here), and Philip Alston, a UN Special rapporteur who has previously highlighted the problem. The segment with Sam can be seen here.
CNN also has a text report on the subject by Christian Purefoy, which notes the significance of Helen Ukpabio:
…One of the most notorious and influential pastors is Helen Ukpabio of Liberty Gospel Church. Her 1999 film, the widely distributed, "End of the Wicked" has been attacked by child rights groups for its depictions of Satan possessing children.

She had agreed to an interview but the meeting was continually postponed for two days.

But in her preaching at Liberty Gospel Church, she heralds success stories of how she has driven out demons through deliverance.

"Witches and wizards, they started getting afraid. I never gave them rest!" she shouted to a cheering congregation.
I've written about Ukpabio on numerous occasions, with the result that I have received a number of abusive messages from her followers. She has also tried to have Sam's hostel shut down, accusing him of being a "wizard".
Also supporting efforts to end child-witch stigmatisation is the Nigerian sceptic Leo Igwe; Leo's father recent lost an eye in an assault by gunmen, and one of Ukpabio's followers left a comment under my blog entry on the subject:
Richard Bartholomew, Leo Igwe, and his father are all useless fools. you people have not seen any thing yet. Bad dogs barking in vain.
Connect the World goes out in the UK at 9.00pm (Freeview channel 84), and part two of the investigation will be broadcast tomorrow.
Click the logo below for information about a charity working in this area.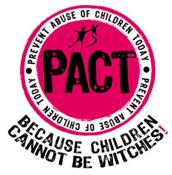 Filed under: Uncategorized | 7 Comments »