A new player has stepped into the controversy over a proposed Islamic Centre close to Ground Zero in New York. Charisma reports:
A Florida evangelist is responding to efforts to build a multimillion-dollar mosque two blocks from Ground Zero with plans to open a religious center of his own.

Bill Keller (pictured), host of the evangelistic website Liveprayer.com, said his 9/11 Christian Center near Ground Zero will begin holding Sunday prayer meetings Sept. 5. The services will be held at a hotel in downtown New York until Jan. 1, when the center moves a permanent site. The facility will be open daily and will house a prayer chapel. Local ministers also will lead regular outreach ministry.

"I was in prayer and God said, 'Listen, if the Muslims can build a temple to their false god at Ground Zero, why can't there be a place dedicated to the true God of the Bible on that same area?'" said Keller, whose website claims 2.4 million subscribers. "Rather than a [protest] event we're going to have an ongoing work of God right there because the Bible says you combat the darkness with the light."
Keller has a special new website with further details:
SPECIAL MEETINGS FOR THE 9-11 CHRISTIAN CENTER WILL BE HELD THIS SATURDAY, JULY 17th IN NEW YORK CITY AND NORWALK, CT. I WILL BE FLYING INTO NEW YORK THIS WEEKEND TO HOLD SPECIAL PRAYER AND INFORMATIONAL MEETINGS FOR THE NEW 9-11 CHRISTIAN CENTER AT GROUND ZERO THIS COMING SATURDAY, JULY 17th. WE WILL MEET AT THE EMBASSY SUITES NEW YORK, 102 NORTH END AVENUE, IN THEIR WALL STREET ROOM AT 11AM. I WILL ALSO BE CONDUCTING A PRAYER AND INFORMATIONAL MEETING AT THE HOME OF DAN AND KIM GALLO… THE MEETINGS SHOULD LAST APX 1 HOUR. IF YOU ARE WITHIN A FEW HOURS OF EITHER OF THESE LOCATIONS, PLEASE PRAY ABOUT ATTENDING AND SEEING HOW THE LORD MIGHT USE YOU IN THIS INCREDIBLE OPPORTUNITY!
(Dan Gallo and Kim Gallo are associated with a missionary organisation called The Word at Work)
Keller – dubbed the "Dr Phil of Prayer"-  is an old-school fundamentalist fire-and-brimstone man, and his Liveprayer.com is wonderfully Landoveresque; here's a peek: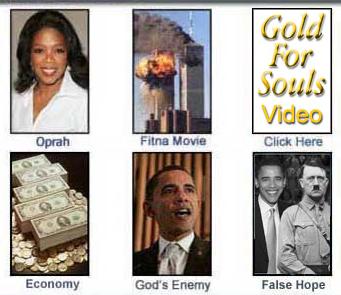 Keller lists a number of reasons why Obama is an "enemy of God", including his support for "deviant sexual choices". But Keller has a long list of things he objects to:
a vote for Mitt Romney is a vote for Satan
plus:
I could care less what [Glenn] Beck chooses to believe, but I do care that he lies to people by stating he is a Christian when a person who believes in the lies of the Mormon cult is no more a Christian than a Muslim is. Most appalling are prominent Christians who have sold out the faith to associate with Beck, more worried about what financial gain they will get from that association than helping him lead ignorant souls to hell for following his cult's beliefs.
(That's a rebuke to Beck's "Pastors and Preachers" Panel of John Hagee, David Barton, Ralph Reed, and others)
During his 2005 trial for child molestation, instead of turning to Christ for strength, [Michael Jackson] turned to a cult I have exposed and talked about, Kaballah which was popularized by singer Madonna, signified by the "red string" bracelet he wore throughout the trial. He had during his life several high profile spiritual advisors, Orthodox Jew Rabbi Shmuley Boteach...
New Agers:
 …and New Age tool charlatan Deepak Chopra, a tool of satan I have warned you about in past Devotionals.
As for Bill O'Reilly, I have commented on his warped theology numerous times over the years. Being a Catholic is not his problem. Not believing the Bible is the only Truth and that Jesus is the only way to be saved is. As I have spoken of in the past, he has bought into this lie from the pits of hell that "all good people will get to Heaven," and that there are "many roads to God." Hate to break this to O'Reilly but selling Factor gear and giving the money to charity isn't going to get him to Heaven…
Etc. etc.
Directly after 9/11 itself, he expounded the same line that brought Pat Robertson and Jerry Falwell into particular disrepute:
…I have shared in the past how I was very concerned that in the last 40 years we have squandered our blessing through the moral decay we have allowed this nation to undergo. The destruction of the family, abortion, compromising the Word of God, have led to the United States to be much like Israel in the Old Testament. I have warned you, and have no doubt that without dealing with these issues immediately, God will eventfully take His hand of protection and blessing off of our great nation, just like He did at times with Israel.

The Holy Spirit quickened in me this morning as I watched what happened, that "God allowed this to happen to our great nation."
We are also exhorted to send Keller money, as a "stand against evil".
According to WorldNetDaily,
"We are not starting a church," Keller emphasized in an email to WND, "but this will be an evangelistic center reaching out to people who are searching, looking for hope and answers in their life."

"The mission is simple," Keller further explains on the center's website. "Have a place at Ground Zero where people can come to hear the real, uncompromised Truth right from God's Word and find the only true hope there is, faith in Jesus Christ. We will combat the lies of this world and Islam with the Truth. We will combat the hatred of this world and Islam with love. We will combat the violence of this world and Islam with peace. Finally, we will combat eternal death this world and Islam brings with life everlasting!"
For some reason, he doesn't feel the need to make clear that "the lies of this world" include Judaism and Mormonism, among much else.
Of course, Keller is a clownish publicity-seeker, and most people will find his attempt to associate himself with Ground Zero (expressed with incredible vulgarity as "THIS INCREDIBLE OPPORTUNITY!")  to be profoundly distasteful – after all, he must believe that most of those who died in the attack are now in Hell.
One wonders what those who have put so much energy into trying to persuade us that the proposed Islamic Centre should be banned as a place of hate will have to say…
UPDATE: "Princessxxx" notes that Keller was profiled by Rachel Maddow last year, highlighting his "birther" activism.
(Hat tip: Bulldada Newsblog. Also, several links came via Right Wing Watch)
Filed under: Uncategorized