A few days ago I wrote a blog entry about an attack website set up to defend "Lady Apostle" Helen Ukpabio against her detractors. The site accuses her opponents (including me) of being a conspiracy of atheists spreading the "Darkwins [sic] philosophy", and it also contains some remarkably crude abuse, such as this:
Leo Igwe, your wife and mother must have been what you are now using to describe Helen. Every ugly terms you used on her, I return to your wife, mother and daughter. You have just killed a girl and cut off the head, instead of Helen to be the next, it is your wife that you will next I bet you.
Writing of a journalist:
what about your wife?… She hunts after monkeys and dogs, no wonder she has only one child
And as for me:
…who is your wife and what is she doing in the society? That you married a mongolis Idiot does not mean that every woman is an idiot. You have an idiot for a wife – it is strictly your choice.
As I wrote at the time in my blog entry:
If I were Ukpabio, I'd want to repudiate such embarassing "support" as quickly as possible, since it only brings discredit to her and to the evangelists who have endorsed her.
No chance of that:

And: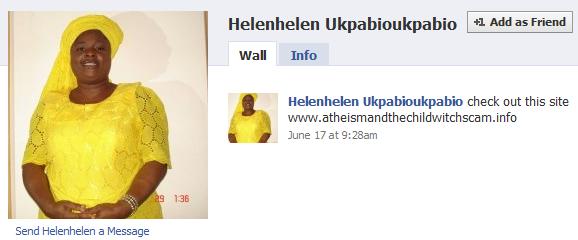 There is no reason to doubt the authenticity of this Facebook page, despite the strange way it is named; members of Ukpabio's family and a number of her pastor colleagues are linked to it as friends. So, all of the above abuse – and more – is implicitly endorsed by Ukpabio herself, the "Lady Apostle". It's also worth noting that the attack site was registered by Gabriel Egba, who is Ukpabio's webmaster; I emailed him to ask what his association with Ukpabio was, and although I received no reply the message was passed on to the author of the site.
Ukpabio's Facebook page is also interesting for the insight it gives into her character, which appears to consist of an emotionally immature mix of pride and anger. Here she is, exulting over an apparent legal victory:
OOOOHHHHHHHHH,GOD I THANK YOU OOOOO THIS IS JUST THE BEGINNING OF VICTORY,GOD U HAVE STARTED IT I KNOW U WILL FINISH IT, SO THAT THIS PEOPLE WILL BE PUT TO SHAME,THEY ARE LOSERS,#30;000 FOR WASTING MY TIME, THIS GOOD,I AM HAPPY

…Omah u are very correct,its not just about the money,the victory is sweeter than the money,i am so happy. @Raphael thank u so much,all the same i am richer with their #30,000.
There is no sense here of a spiritual person who has been misunderstood, and who wishes for her opponents to see the the truth; rather, we see someone clearly in love with worldly power, expressed in the most vulgar way.
I also recently highlighted the various religious leaders who consecrated Ukpabio as an "Apostle". This led to a short deluge of trolling comments from Nigeria, again of the most abusive kind. As with the attack website, one has to wonder to about the mentality; although there is nothing in the Bible to support the existence of child-witches, there is fair bit of material on the importance of truthfulness.
I'm inclined to doubt that the trolls or the author of the attack site believe in child-witches any more than I do: however, they clearly have an interest in perpetuating the belief, and this is why they are lashing out. It's a matter of business.
Filed under: Uncategorized | 37 Comments »