UPDATE: Williams has left a comment by way of clarification as to why he made the Facebook posting:
it's because she is a minor and although the prayers of many are needed and appreciated, it is not the entire world's business about her health condition… Jamal's intentions are pure and sincere. I have no[t] broadcast the news of her health circumstances because I am more concerned about the numerous outsiders who have little interest in Ms Bary as a person, and more an interest in generating hits to their blog, or using her as an opportunity to be seen in the public light. With all of our governmental problems, even federal law protects indivuals from having there medical records and circumstances known to the public. Given the past 9 months Ms. Bary has endured, I believe that as a 17 year old she is also entitled to that same level of privacy…
***
Now, following the situation outlined in my previous post, what are we to make of this?
Brian Williams, the pastor who helped Rifqa Bary escape Ohio to Florida, has just posted the following on Jamal Jivanjee's Facebook page – twice (quote marks in original):
"Rifqa is doing fine, she has had much prayer, but she is healed, she has been prayed for and healed. Her love for Jesus is at an all time high. COntinue to pray for her though. Jesus lives! :)"
Curiously, Williams does not mention this remarkable recovery on his own Facebook page, or give any details.
Another poster then asks Williams why his announcement seems to differ from Jivanee's; Jivanjee's response is ambiguous:
The beautiful thing about many, many people praying, vs only a few people praying, has to do with joy. God uses the prayers of His people to accomplish His purposes. The purpose is Joy. Jesus said in John 16 that if we ask anything in His Name, the Father will grant it so that our joy may be made full. It is the will of God that the joy of many people be made full because this brings Him glory. The more that people pray, the more the joy. This is, in my opinion, the main reason why God is raising up so many people to pray for Rifqa. May the news of her situation, and the prayers of the saints be multiplied! God is good.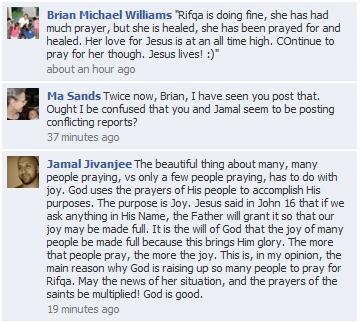 Filed under: Uncategorized | 28 Comments »