News from Belarus:
Ten Americans left Belarus on Friday after authorities ordered them deported for allegedly singing religious songs and reading spiritual literature…[Interior Ministry spokesman Oleg] Slepchenko said police raided what was supposed to be a seminar in conversational English at an evangelical Protestant church in the eastern city of Mogilev. He said police found bibles on the tables, and participants were singing religious songs instead of talking.
Belarus's dictator, Alexander Lukashenko, of course, favours Orthodoxy – as I've noted on this blog, he enjoys the strong support of Moscow patriarch Alexei II. Last August, Private Eye magazine featured a "Letter from Minsk" which included the following detail:
A few years ago [Lukashenko] presented the Russian Orthodox Patriarch with $85,000 worth of gold, silver and jewel-encrusted banners for the Cathedral of Christ the Saviour in Moscow. In return, Patriarch Alexis II commended Lukashenko for resisting the "cult of force, self-destruction and lack of morals that permeate the west", then he decorated senior Belarus KGB men (we have not bothered to make the secret police sound more customer-friendly) with the Order of Apostle Grand Duke Vladimir (no relation) for "decisive implementation of the government's policy of spiritual development of the nation."
Other awards that Alexis has heaped on the dictator include the Order of St. Sergius of Radonezh ("for strengthening unity of Slav peoples") and a prize from the "International Foundation for Unity of the Orthodox Peoples".
The hapless American missionaries – who were in the country for just a few weeks – fell foul of a repressive Religion Law passed in 2002. The strategy of using language schools as a front for missionary activities was recently seen in Uzbekistan and Afghanistan (as I blogged here); an academic article that looks at the phenomenon of Teaching English as a Foreign Language can be accessed here.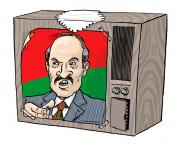 (Hat tip: Christianity Today Weblog. The pic is one of several anti-Lukashenko cartoons that are banned in Belarus, and which activists have asked to be publicised.)
Filed under: Uncategorized