Dennis Prager pontificates on WorldNetDaily:
The trivialization of the Holocaust

In her last column, Boston Globe columnist Ellen Goodman wrote: "Let's just say that global warming deniers are now on a par with Holocaust deniers. …"

…Just imagine if, for example, an equally prominent Christian figure had written that denying America is a Christian country is on a par with denying the Holocaust. It would have been front-page news in the mainstream media, the individual would have been excoriated by just about every major liberal individual and group, and the ADL would have cited this as an example of burgeoning Christian anti-Semitism and Holocaust trivialization…
Meanwhile, another page on WND offers us this:
Stunning documentary links Darwin, Hitler
Holocaust was fallout of evolution theory, says production

…Ann Coulter, bestselling author of "Godless: The Church of Liberalism," a WorldNetDaily columnist and featured speaker at WND's upcoming NewsExpo2007 event, said Hitler was simply taking Darwinism from the theoretical to the practical…
The documentary has been puffed on WND for several months; I blogged on it here. At the time, WND illustrated the story with the following picture and caption; it reappears in the new puff-piece for the "documentary", but with a question-mark added.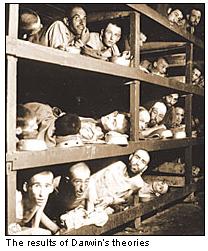 Filed under: Uncategorized | Leave a comment »