From Send2Press Newswire a few days ago:
…In 2005, civic activists from Belarus published flash cartoons on their website (www.3dway.org). The cartoons were about life in Belarus, electoral fraud, Belarus' isolation, and Lukashenkos notorious preoccupation with sports. The activists may face up to five years in prison for publishing the cartoons.

In addition to harassing political opponents, civic activists, and Christians, the government of Belarus and its KGB criminally persecute those "offending the honor of Lukashenko." The Belarusian regime is tightening the grip on any form of dissent before the crucial presidential elections scheduled for March 19, 2006. The new legislation can put the dissent behind bars for any expression of alternative opinion.

Maidan International (http://maidan-int.org), a non-profit 501(c)3 organization, calls world's print media to publish cartoons on Lukashenko, "the last dictator of Europe." For new cartoon images, please visit http://www.svoboden.org or email info@svoboden.org.
Better late than never: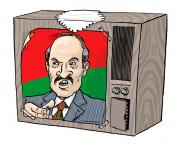 Filed under: Uncategorized