In the 1960s, a somewhat prudish man named Ken Taylor worked on a paraphrase of St. Paul's letters while commuting to work at the Moody Press in Chicago. The result was a volume called Living Letters, later expanded into the Living Bible. But who should publish it? Taylor's autobiography, My Life: A Guided Tour has some background (pp. 228-229):
I stood there in the presence of God with this first copy of Living Letters and prayed again the prayer I had prayed on the Mount of Olives, that God would use the little book mightily for His glory…I had always been fascinated by the story of the sixteenth-century Englishman William Tyndale…I too had a dream of giving to America a Bible that was easy to understand. William Tyndale was my hero. So Living Letters was published under the name of Tyndale House Publishers.
And now:
Tyndale House Publishers announced today that it will release The Official Chuck Norris Fact Book: 101 of Chuck's Favorite Facts and Stories, written by Chuck Norris with Todd DuBord, in November.
DuBord is apparently the official chaplain to "Chuck Norris Enterprises", and he runs a website called "National Treasures" which aims to correct what he sees as secular revisionism of American history; he has
…personally led correction crusades to restore major religious revisions at historic sites like the Jamestown Settlement (first English colony in America) and the Washington Monument.
Norris is big fan of the Bible, and in 2005 he lent his suppport for a crank Bible syllabus produced by the National Council on Bible Curriculum in Public Schools (NCBCPS) – see here for further details.
Funnily enough, there is actually a physical resemblance: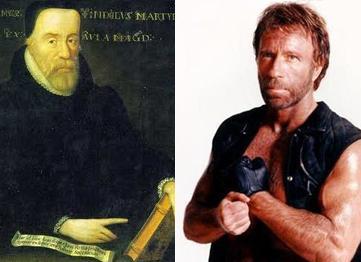 (Hat tips: Jim West and Biblical Paths)
Filed under: Uncategorized