The Evening Standard reports:
A former cleric dubbed the "Bonking Bishop of Brentwood" has been quizzed by detectives on suspicion of rape.

Michael Reid, 66, set up the Peniel Church, but was forced out after his wife discovered he had been having an eight-year affair with a woman in the congregation.

…A spokesman for Essex Police said: "A 66-year-old man from Brentwood was arrested on 27 August on suspicion of historical rape. He has been bailed until November."
I last blogged on Reid – the former head of the Christian Congress for Traditional Values – here. His ordination as a Bishop was through the International Communion of Charismatic Churches, headed by the late Bishop Earl Paulk of the Chapel Hill Harvester Church in Atlanta, although at some point after 1998 Reid withdrew from this grouping. He also has links with Richard Roberts, son of Oral Roberts.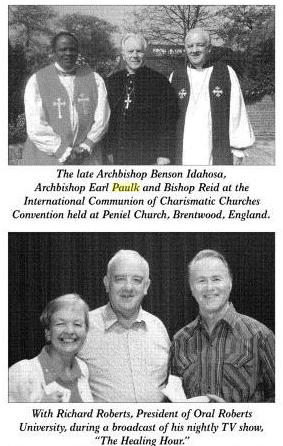 Paulk died in March engulfed in sex scandals; according to CNN:
One allegation ended in a civil suit that was settled out of court in 2003. The accuser said Paulk molested her when she was a child.

A second woman claimed the bishop forced her into a 14-year affair.

…During a deposition in the case, the bishop said under oath the woman was the only one he slept with outside of marriage. But a court-ordered paternity test showed that he also fathered a child with his sister-in-law.
Roberts, meanwhile, has been embroiled in allegations of financial mismanagement (as Max Blumenthal puts it in a Nation article based on his new book, he "allegedly looted university coffers to pay for his daughter's junkets to the Bahamas and bankroll his wife's shopping sprees").
Back in 2001, the Peniel Church was accused of engaging in an attempted take-over over a local Conservative Party branch; this led to Martin Bell standing unsuccessfully against the local MP, Eric Pickles.
(Note to commentators: please be sensible when leaving comments. A police investigation is a serious matter, and I will not allow any comments making assertions or speculations about it.)
Filed under: Uncategorized | 8 Comments »