7 January 2009, front page of the Sun: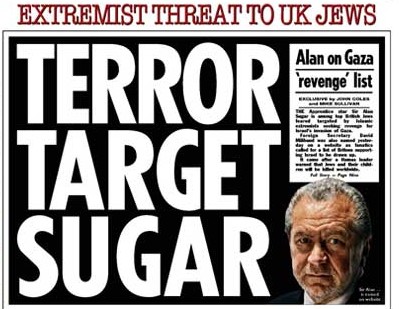 24 February, from the Guardian:
The Apprentice star Sir Alan Sugar has begun legal action over a Sun front page story that alleged he was named on a "terror hit list".

…The businessman and TV star is understood to have been angry at the story, which he felt risked his personal security.

In the Sun's January story, which was headlined "Terror Target Sugar", it was alleged that Islamic extremists were targeting leading British Jews including Sugar in revenge for Israel's invasion of Gaza.
But the Sun doesn't need to worry unduly – it has an impeccable source for its story, a self-styled "anti-terrorism expert" named Glen Jenvey, who will doubtless be giving evidence. Jenvey – who appeared as a pundit on the controversial Obsession DVD – has recently rebutted allegations that he fabricated the story by explaining that the Press Complaints Commission is in league with al-Qaeda and guilty of "hate crimes" (revelations which he has disseminated via anonymous postings to Wikipedia), and he has confounded critics by telling us that Guardian ran a report about the PCC's investigation because the paper's editor is conspiring to protect a Muslim who used to be a columnist for the paper's website. What could go wrong?
Filed under: Uncategorized | 18 Comments »