Note: At the risk of stating the obvious, Nick's false allegations of 2014 are a separate matter from the new allegations that have been made against him. Nothing about the former should be used to draw inferences about the latter while the matter is sub judice.
From the Daily Telegraph:
The alleged fantasist who sparked the Westminster paedophile investigation has been charged with child sex offences.

The man, who can only be identified as Nick, was arrested last year and has already appeared in court, charged with multiple offences relating to allegations of making and possessing hundreds of indecent images of children. He has also been charged with voyeurism.

He has pleaded not guilty to all charges, which allegedly took place between 2015 and 2016, and is expected to stand trial later this year.
Nick infamously claimed to have seen politicians and other establishment "VIPs" rape and murder children during paedophile orgies, prompting the disastrous "Operation Midland" police fiasco which began with the assumption that Nick was "credible and true" and ended in ignominy with no arrests and with compensation payouts over needless police raids on the homes of Lord Bramall (facilitated by the police misleading a judge) and the late Leon Brittan.
As a sex crime complainant, Nick enjoys a right to anonymity; apparently we only know about the new development at all because of a successful legal challenge (1). However, the allegations "cannot be revealed in detail for legal reasons" and the matter is sub judice; thus the Mail has bulked out its coverage with a new autopsy by Richard Pendlebury and Stephen Wright into how Nick's claims were reported in 2014 and 2015.
Under the headline "'Nick the Fantasist' to stand trial for paedophile offences: How the man who sparked disastrous VIP child sex abuse probe had the police, BBC and Labour's deputy leader lapping up his lies" (2), the two authors explain that the tales were taken seriously
because a middle-aged former public sector worker called Nick came forward to make claims that a significant, politically motivated cadre wanted to hear. It also suited the politically correct times.

Tom Watson, now Labour deputy leader but then still a backbench MP, was on a roll following his crucial part along with the campaigning group, Hacked Off, in setting up the Leveson Inquiry into the conduct of the Press.

Now he was looking for a new cause that would damage his enemies. And if it burnished his own growing reputation as a crusader for truth and justice, well, why not?

…BBC News also bought into Nick and his claims, providing a platform upon which he could build a mountain of lies. In December 2014, Nick's interview with BBC News about his alleged child sex ordeal was broadcast on primetime news bulletins.
It is true that the the Daily Mail was the first media outlet to probe more deeply following Harvey Proctor's August 2015 press conference; on 5 September 2015 Wright revealed that detectives had "grave doubts" about Nick's story, and Wright co-authored a more in-depth piece two weeks later that sceptically drew attention to aspects of Nick's allegations that were particularly bizarre and far-fetched.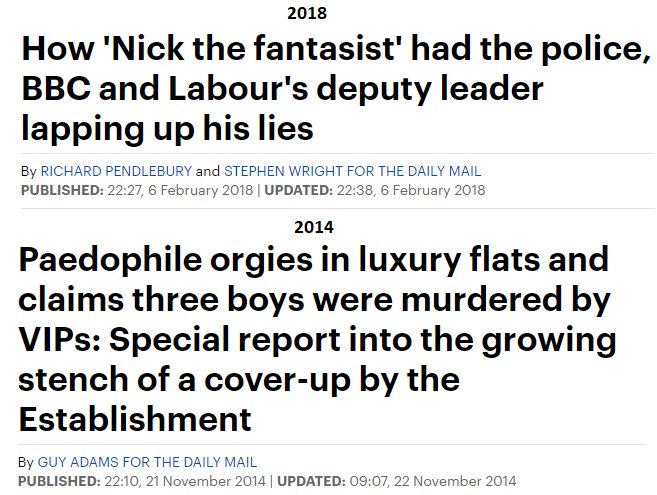 However, there is self-serving revisionism in the paper's criticisms of Watson and the BBC: there was already online scepticism about Nick's claims before the Daily Mail gave the matter its attention, and the paper had previously been as credulous as the rest of the media. Thus in November 2014 the Daily Mail's attack dog Guy Adams produced a piece that was headlined "Paedophile orgies in luxury flats and claims three boys were murdered by VIPs: Special report into the growing stench of a cover-up by the Establishment", in which he wrote that
'Nick,' who claims to have visited Dolphin Square on at least ten occasions (and recalls its 'dimly-lit, musty corridors'), has supplied Operation Midland with a written account of his ordeal and been interviewed extensively by investigators, passing them names of the Tory MP and the Cabinet Minister.
A few months later, when Harvey Proctor's home was raided by police, the paper's journalists (not Wright) turned to "campaigning Labour MP John Mann" for comment. While Watson is credulous, Mann's calculated disclosures about supposed "dossiers" relating to VIP abuse and have been self-promoting.
Meanwhile, Mail Online, which is apparently a separate entity from the Daily Mail but is published on the same website, ran an article following Proctor's press conference stating that Nick had "handed over" evidence to police, when it meant that Nick had given evidence – the former obviously implying something of forensic value rather than just testimony.
Further, it should be noted that while BBC News did not distinguish itself in the autumn of 2014, Nick's credibility was seriously brought into question by the BBC's Panorama news programme a year later. This is just about acknowledged by the Daily Mail, albeit in a side-box rather than in the main text of the article (which meant I missed it in first reading article):
The early BBC News and Exaro reports were later pulled apart by BBC Panorama, which established that at least one of the murders Nick claims to have witnessed – the only one about which he has provided detailed information – could not have taken place.
In particular, the programme-makers probed Nick's claim that a friend of his had been run over and killed in front of him in Kingston-on-Thames, as a warning to him not to have friends. As the New York Times reported after the programme was broadcast:
the BBC investigation found no public record of a murder or accident in the described location at the time. It also tracked down all the boys at Nick's school at the time with the first name he had provided for his friend. All of them are either alive or died in different circumstances than those described by Nick.
It is very difficult to positively prove that something didn't happen when dates are vague, but this is by far the most reasonable explanation for why such a dramatic claim cannot be substantiated.
Meanwhile, Nick's various online supporters (there is an "ibelievenick" hashtag) are in something of a dilemma over the new allegations against him. Much of their online rhetoric has tended towards the view that those who express scepticism about allegations of paedophilia-related sex crimes are "nonce apologists" who support child sex abuse, and there has been a relentless lynch-mob glee in discussions about Nick's claims ("Who's that cow bag saying Bramall is an innocent man?" was a derisive question asked by Esther Baker, who is now a core participant in the Independent Inquiry into Child Sexual Abuse). Will they now turn on Nick in similar terms, or will they instead suddenly expound the virtues of being fair-minded and not jumping to conclusions?
Footnotes
1. One Daily Mail article states that "the charges against Nick can be disclosed after a court challenge, backed by the Mail, overturned a ban on reporting the case". This does not make it quite clear who was responsible for the challenge, whereas a companion article in the same paper (quoted above) states that the "news emerged only because a judge lifted a reporting restriction which had been challenged by this newspaper." However, Tom Wells, who is Chief Reporter at The Sun, has Tweeted that "the quite extraordinary development in the 'Nick' saga can only be revealed today because of a legal battle launched – and won – by @TheSun".
2. This companion piece has been published both on a separate webpage and underneath the Daily Mail's more general article, where it has the shorter title "How 'Nick the fantasist' had the police, BBC and Labour's deputy leader lapping up his lies". This shorter title was also originally used on the separate webpage, as shown in the screenshot.
UPDATE 2019: "Nick" has now been revealed to be a man named Carl Beech. His allegations have been comprehensively exposed as lies, and he has been found guilty of perverting the course of justice and fraud. He was also found to be in possession of a collection of child-abuse images, and to have used a hidden camera to film the teenage friend of his son using a toilet. For more, see here.
Filed under: Uncategorized | 22 Comments »