The Nigerian Vanguard has the latest on Stepping Stones Nigeria, a charity that provides refuge for children who have been abused and rejected by their families after being accused of witchcraft:
A child rights group has denied allegations of fraud levlled against it and published in the current edition of a national news magazine.

…Responding to these  allegations, Stepping Stones Nigeria's Programme Director, Gary Foxcroft said,  "I refute these allegations entirely. It is clear that our work with so-called child witches in Nigeria has upset many powerful people who would prefer that this issue had never been brought to the attention of the International community. Such people, some of them who have made a great deal of money from spreading the mythical belief in child witches, will often use everything in their power to protect their interests".

Foxcroft further stated: "Stepping Stones Nigeria, as a UK registered charity, publishes annual reports and accounts which are all publicly available. We are committed to upholding the highest standards of transparency and accountability.

All funds donated to the charity are used to support the local partner organisations that we work with in the Niger Delta to bring about lasting changes in the lives of vulnerable and disadvantaged children. It is a pity that the fake apostles who have established churches in Nigeria and made fortunes from preaching about witchcraft are not also regulated and made to publish such reports. Such allegations are clearly being made in an attempt to distract us from our important day-to-day work".
We also learn that Sam Itauma, who runs the associated Child Rights and Rehabilitation Network
… now has to sleep in different locations in order to protect himself from the forces of darkness that seem to be intent on destroying him and the work of CRARN.
The work of Stepping Stones became widely known due to a British documentary that was broadcast at November 2008, and which highlighted how certain evangelists had promoted the belief that children can cause harm by supernatural means. One evangelist featured in the documentary was Helen Ukpabio, head of the Liberty Gospel network of churches and the director of witchcraft-themed horror films. Ukpabio defended herself with a comparison to J.K. Rowling, and she warned the interviewer:
Witchcraft is a problem all over Nigeria..I never hurt anybody. Be careful, mind your ways…We have about 150 churches in Nigeria. I am a voice in this country. So, a white man or a white woman cannot come into my country and say nonsense against me and mess up the whole situation.
The programme created an international storm, and as a result state governor Godswill Akpabio announced support for CRARN and laws against withcraft allegations.
Ukpabio, however, has fought back: she warned Akpabio to "remember what happened to Saddam Hussein", and she launched a number of lawsuits against those involved in making the documentary (including the narrator). She also denounced Itauma as a "wizard", and her lawyer Victor Ukutt arranged for police to raid CRARN. When the prominent Nigerian humanist Leo Igwe held a conference on the subject of child witches with CRARN, a mob from her church invaded the venue. Other evangelists have come to her support, too – Bishop N. E. Moses recently made Ukpabio into an "Apostle", and he praised the attack on Leo's conference at an event attended by "top government officials, royal fathers, Nollywood stars, celebrities, diplomats". Ukpabio also launched a lawsuit against Leo, although that was recently dismissed (Leo also has other enemies who use the law against him).
And it now appears that Ukpabio also has a journalist supporter: step forward Babajide Kolade-Otitoju of The News, with a piece called "One Big Scam":
In 1999, Ukpabio made a film, The End of the Wicked, which starred such established Nigerian actors like Keppy Ekpenyong, Zack Orji, Justus Esiri and Teco Benson among others. She also featured her own children in the film. Ukpabio's goal in producing the video was to show that though children and adults alike can come under the influence of witchcraft, with Jesus Christ in one's life, one is insulated.

The movie did not label kids as witches and it easily scaled the Nigerian Video Censors Board hurdle. However, it was all that the duo of Gary Foxcroft and Sam Ikpe Ita-Uma needed as evidence to show that witchcraft is a colossal problem, especially in Akwa Ibom and Cross River states and that there was an urgent need to address the problem. The two men came up with a documentary which was aired on Channel 04 in the United Kingdom and it drew global attention to the problem. The telecast was watched all over the world and circulated on the Internet.

What many people who watched the documentary do not know is that Ita-Uma and Foxcroft doctored Ukpabio's film and superimposed some portions of it on their documentary, with apparent desire to shock viewers. TheNEWS investigations showed that children who were interviewed on the documentary were coached to say some of the things they said. In the background, a male voice speaking Ibibio was telling the kids what to say. They travelled to some villages in the state and allegedly paid people to appear on the documentary.
Kolade-Otitoju does not go into much detail about his supposed evidence, and he totally ignores the visible injuries and obvious trauma of the children who featured in the documentary. Instead, Kolade-Otitoju gives us some testimony from… another evangelist:
What actually exposed the documentary as a huge fraud is the testimony of a certain Bishop Sunday Williams, who declared in the documentary that he killed no fewer than 100 kids that possessed the witchcraft spirit and that there are about 2.3million witches in Akwa Ibom State. Just about the entire population of the state!

However, when he was arrested after his shocking claim, Williams, in his statement to the police, claimed what he meant was that he killed the spirit deposited in the kids and not that he took their lives. He blamed Ita-Uma for his predicament.

…"All you saw on the documentary was a theatre set-up and acted by Sam Ita-Uma and the whiteman (Foxcroft). In fact, Ita-Uma asked me to say those things on the documentary so that they can play it to the whole world, to attract customers and clients. I did not kill anybody. That was what I told the police… Sam Ita-Uma is the biggest fraudster this generation has ever produced," he said.
Williams (also known as Bishop Sunday Ulup-Aya) was arrested following the documentary – it was only then that he felt the need to clarify what he meant. The documentary certainly exposed his disturbing and abusive method of exorcism, which involves forcing a child to down a strange "poison destroyer" medicine made up of "African mercury", his own blood, and pure alcohol. It was also clear that he was making a good deal of money from his antics.
We also learn that Ukpabio has been waving her lawyers around abroad:
Red Rebel [which made the documentary for Channel 4] paid… two television networks to run the documentary over a two-week period, but responding to threats of legal action by Victor Ukutt, Ukpabio's lawyer, that the documentary was a fraud, and explaining that scenes where children appeared were taken from Ukpabio's film, and superimposed on the documentary, both television networks immediately stopped running it.
Kolade-Otitoju also claims financial impropriety, although it's a transparent hatchet job: he claims to reveal that Stepping Stones Nigeria has been waylaying donations for CRARN, but Itauma openly states that money is released to CRARN on a project-by-project basis following the scrutiny of proposals. In a complete non-sequiter, Kolade-Otitoju then declares that:
Ita-Uma was lying through his teeth. CRARN has domiciliary accounts with both Zenith and Oceanic banks…
Therefore what? Itauma never said CRARN doesn't have its own bank accounts. Where else is CRARN supposed to put the funds it receives? But Kolade-Otitoju rambles on:
TheNEWS also has evidence that CRARN has been receiving money from not just Stepping Stones Nigeria through that account.
And here's the shocking revelation that follows:
On 1 January 2009, one Emmanuel O. Emmanuel paid $300 dollars into the account. On 6 March, B.O. Obala Foundation donated $490, while on 25 June 2009, one Jessica O'Con paid in $78.
So, as well as funding from Stepping Stones, CRARN has received $868 from some private individuals. Again, therefore what?
Kolade-Otitoju's risible non-exposé has drawn a response from the prominent human rights campaigner Patrick Naagbanton, who knows Foxcroft:
Akwa Ibom State is not the only geographic focus of the work of Stepping Stone Nigeria (SSN) as the writer of that piece wants us to believe. SSN's work focuses on the plight of other children in other Niger Delta states like Bayelsa, Delta, Cross River, Edo, Rivers and others. SSN works with local partner organizations like the Child Rights and Rehabilitation Network (CRARN) in Akwa Ibom State led by Sam Ikpe Itauma to achieve its purpose. Itauma's CRARN is a child rights organization which SSN supports to do its work. I don't see any scam in that relationship. Sadly, Sam Ikpe Itauma had suffered tremendously while trying to campaign about the abuse and abandonment of the kids in conjunction with SSN. He had severally been attacked by corrupt Nigerian Police officials allegedly on the payroll of Evangelist Ukpabio. Gary's SSN had sometimes last year provided potable water to the schools in Bodo and Bane where poor villagers from those Ogoni communities also use. The project money also passed through me. 

The abuse of these children is gruesome in Akwa Ibom, Cross River State and other places. Is it not grossly hyperbolized to draw pounds, dollars and Euros by the duo of Gary and Sam from donors as the piece implied. The writer should go beyond mere listening to Evangelist Helen Ukpabio and her assortment of soldiers of fortune, and travel round Akwa Ibom and Cross River States to see how unscrupulous religious leaders have cashed in on the witchcraftcy myth to cause this new reign of evangelical windfall.
Naagbanton was also at Leo's conference:
On Wednesday, July 29, 2009, I was a victim of a physical attack unleashed by scores of fanatics loyal to Evangelist Ukpabio who invaded a conference which the Nigerian Humanist Movement (NHM) and Stepping Stone Nigeria (SSN) jointly organized in Calabar, Cross River State capital. Leo Igwe, executive secretary of NHM and others were wounded, and Leo's properties were stolen by Ukpabio's militias.

…Babajide Kolade Otitoju's article, "One Big Scam" is merely a re-echo of what the Ukpabio religious militants were chanting (that SSN is an illegal organization, SSN and others are using the witch campaign to defraud donors etc)…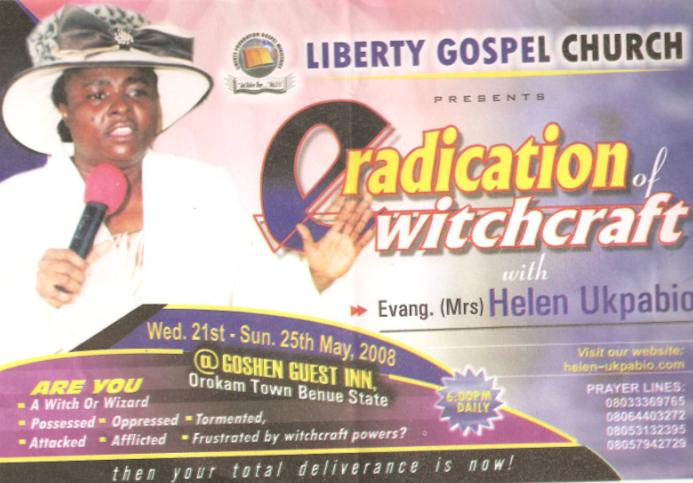 Filed under: Uncategorized