Roving Russian ambassador and Moscow Patriarch Alexy II has been having a love-in with comb-overed Belarus dictator Alexander Lukashenko:
"There is no doubt that Belarus is an Orthodox nation. We shall strictly follow the chosen line because the people want it," Lukashenko told Patriarch of Moscow and All Russia Alexy II in Minsk on Friday…"A great merit of the Church is that there is no inter-faith enmity in Belarus," he said.
It's a laugh to see Lukashenko talk about what the people supposedly want. Interfax has further details of Alexy's meeting:
"I hope for the unity between Russian and Byelorussian people. We need to keep the unity of the holy Orthodoxy," the primate of the Russian Church told journalists in Minsk.

"Unity will allow us to find common features and solve problems and difficulties the world has faced in time of the economic crisis."
Also:
"Spiritual unity remains a cornerstone of mutual understanding [between the peoples of Belarus, Russia, and Ukraine]. I believe it will not exhaust, and no circumstances can undermine this spiritual bond,"
This need for unity is in order to oppose both "the secular world and unorthodoxy". Apparently the visit included "a round-table conference on Christianity in Russia, Ukraine and Belarus".
The background, of course, is that with democracy and nationalism in Ukraine there is now a strong Orthodox church there which does not want to be linked to Moscow; a pro-Russian strongman in Minsk means that a similar situation will not occur in Belarus.  In 2002, Alexy awarded Lukashenko the Order of St. Sergius of Radonezh "for strengthening unity of Slav peoples"; the year before that, it was a prize from the "International Foundation for Unity of the Orthodox Peoples".
Alexey also praised the development of Minsk:
He said that the Belarusian capital city had changed much since his last visit six years ago. "It has changed much, decorated with new significant buildings and the magnificent National Library." "Its numerous visitors are a sign that people still love books and are not vanishing in the virtual world," he said.
A recent report in the Irish Times takes a more jaundiced view of this:
Extraordinary buildings keep appearing around Minsk – such as a new national library that looks like it has just landed from Mars – despite the country's deepening debt to Moscow and fears for the future of the cheap Russian oil and gas that have fuelled Belarus' steady economic growth.

These landmarks are monuments to Mr Lukashenko's power, self-aggrandising gifts from "Batka" ["Father"] to a nation that is allowed no say in how he spends their money, or on whether someone else would do it better.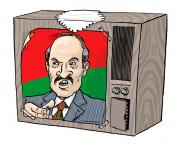 (Above: banned cartoon of Lukashenko)
Filed under: Uncategorized | Leave a comment »