One of the websites I have come across while researching Walid Shoebat is this one, which puts forward a conspiracy theory that Shoebat and his handler Keith Davies may in fact be the same person. Two pictures are provided, showing that the men are of a similar build, and have similar tastes in hairstyles, facial hair, and clothing:
Good fun, but the idea that one of them is other in disguise was always far-fetched, and can be put to bed with this picture: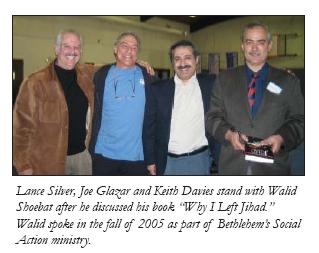 Lance Silver, on the left, founded the "Forum for Middle East Understanding", which Shoebat claims was set up as a non-profit for donations to the Walid Shoebat Foundation (although curiously he mistakenly calls this the "Foundation for Middle East Understanding"). The FFMU is run from the same address in Philadelphia as Silver's real estate business, and its website appears to be defunct. Some of Silver's thoughts on the Arab-Israeli conflict (and, strangely, his own agreement with those thoughts) can be seen here, and he also sits on the board of the Philadelphia-based "Interfaith Taskforce for America and Israel" (ITAI). This organisation does not appear to have a website, and it holds events with thuddingly predictable titles such as "The Jihadist Islamic Threat to the Judeo-Christian Way of Life" (Shoebat was involved with that one; this notice – which spells him as "Shubat" – claims he is a "professor"!). The director of ITAI is a certain Joseph Puder, and a conservative Episcopal priest named Peter T. Manzo is also involved. Whether they share Shoebat's view that the Book of Revelation refers to Islam is not known.
Puder and Silver are also on the board of the America-Kurdistan Friendship League (AKLF), alongside the likes of billionaire conservative Christian Foster Friess and none other than the famous "Indiana Jones of the Right", Jack Wheeler, who (among much else) back in the 1980s helped Jack Abramoff organise a conference in Angola for Nicaraguan Contras, Afghanistan Mujahideen and South African Security police (see my blog entries here and here for further details).
Davies, meanwhile, left a comment on this blog just a few days ago. He is of the view that
Obviously Mr. Shoebat is such a threat to your liberal diseased minds that you need to smear him and call him names…
Filed under: Uncategorized