From the Guardian, earlier this month:
Top loyalists to Donald Trump, who frequently push lies about election fraud, have joined forces with conservative doctors touting unproven Covid cures and vaccine skepticism, and like-minded evangelical ministers at a series of events across the US this summer.

The conservative "ReAwaken America" tour – featuring ex-general Michael Flynn and top Donald Trump loyalist donors – has held events in Florida, Michigan and other states.

…While the tour has touted Flynn's key role, a Tulsa Oklahoma media figure and Christian entrepreneur named Clay Clark has been instrumental in orchestrating the gatherings – also dubbed "health and freedom" conferences – using his "ThriveTime" podcast and radio show and Charisma News coverage.
I previously noted Clark in December, when he interviewed Lin Wood on his podcast; Charisma News, meanwhile, is a website controlled by the neo-Pentecostal media conglomerate Charisma Media. Charisma's CEO Stephen Strang is among the "ReAwaken America" speakers – he was recently profiled in the New York Times, and back in 2005 he was one of Time magazine's "25 Most Influential Evangelicals in America". His own books include God and Donald Trump, which Trump himself brandished at Davos a few years ago, and a recent effort called God and Cancel Culture, which comes with a foreword by Mike Lindell.  Charisma News is billed on some materials the "sponsor" of the ReAwakening America rallies.
The most recent tour event has been taking place in Colorado – choice extracts have been uploaded to Twitter by a sceptical commentator named Jim Stewartson in threads that start here and here. As expected, it's a grotesque spectacle of alarming crowd manipulation, vicious conspiracy rhetoric and ludicrous religious theatre, as well as explicit shout-outs to QAnon. Many of the cast are well-known – Greg Locke, "demon sperm lady" Dr Stella Emmanuel, Mike Flynn himself – but the roster also includes many others: a Rhema prosperity evangelist working in Kenya named Vidar Ligard; a pastor named Todd Coconato ("Jesus would not take the vaccine"… "this is the End Time harvest"); one Kevin Jenkins, of the Urban Global Health Alliance ("everybody hug each other tight… I'm watching"); Cindy Chafian from Moms for America; and a Polish Canadian street preacher named Artur Pawlowski. Despite the Christian Right vibe, though, the event was ecumenical enough to include Seth Holehouse, a Falon Gong adherent and reporter for Epoch Times ("we're living under a fake government… we've got fake currency… a fake pandemic"), and Christiane Northrup, a New Agey "wellness" guru who apparently called the CDC a "Covid Death Cult" (1). Speakers at previous tour events in Florida and Michigan have included Sidney Powell and – keeping the British end up – disgraced former doctor Andrew Wakefield.
The stage is notable for a backdrop featuring the images of Mike Flynn, Mike Lindell, Sidney Powell and others,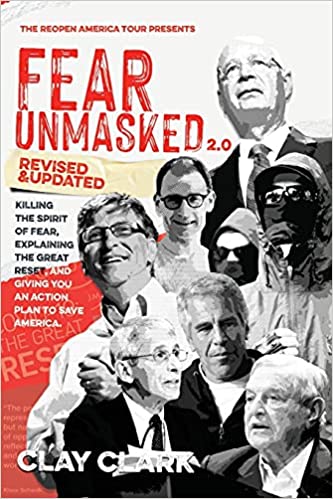 with variations according to location. There's also a big banner promoting a book by Clay Clark called Fear Unmasked (Amazon has a photo of Governor Kristi Noem of South Dakota posing with a copy). A new edition of the book, Fear Unmasked 2.0 ("more resources to kill the spirit of fear and giving YOU an action plan to save America"), has a different cover: a sinister montage featuring George Soros, Anthony Fauci, Bill Gates, Neil Ferguson, Rupert Murdoch (?) and for some reason Jeffrey Epstein.
Footnote
1. Northrup's book A Mom's Guide to the COVID Shot is published by Clay Clark's Thrive Edutainment imprint. According to publicity materials, the author "shares the truth about what is in the COVID-19 vaccine and the effects it is having on those who have received it". Northrup is notable in that in 2013 she was apparently one of Reader's Digest's "100 Most Trusted People in America", and in 2016 "she was named one of Oprah Winfrey's Super Soul 100, a group of leaders who are using their voices and talent to awaken humanity". She's also on the Watkins Mind Body Spirit Magazine "Spiritual 100 List" as one of their 100 Most Spiritually Influential Living People.
Filed under: Uncategorized | Leave a comment »