From the Religious Information Service of Ukraine:
Parliamentary Prayer Breakfast under the auspices of the Chairman of the Verkhovna Rada of Ukraine Oleksandr Turchynov was held on Wednesday with participation of representatives from the church, NGOs and religious organizations of Ukraine, as well as foreign guests, diplomatic missions and the people's deputies of Ukraine, Press Service of Verkhovna Rada informs.

…Commenting on the situation in Ukraine, Oleksandr Turchynov… cited the Bible saying that "the Babylon will always remain destroyed, since its walls are built on human fear and disbelief."
Oleksandr Turchynov (var. Alexander Turchinov) is himself a Baptist pastor. A photo of the helpfully bilingual programme shows that the event was entitled "New Ukraine: Into the Future with God".
The original source in Ukrainian can be seen here; it includes a photo (see below) of a list of some special guests:
Alojz Peterie (European Parliament); Frank Heinrich (Germany); Andreas Karlsboeck (Austria); Valeriu Ghiletchi (Moldova); Egidijus Vareikis (Latvia); Bill Hightower (USA); Doug Burleigh (USA); Paul Petrie (Belgium); and Viktor Hamm (USA)
Hamm – originally from Russia – is with the Billy Graham Evangelistic Association (Vice President of Crusades) and is a friend of Turchynov, but Burleigh is more interesting: he's son-in-law to Doug Coe, who heads "the Fellowship", which in turn organizes the USA's National Prayer Breakfast. The Fellowship, also known as "The Family", has been the subject of ground-breaking investigations by Jeff Sharlet; a blurb for his 2008 book The Family: The Secret Fundamentalism at the Heart of American Power serves as a useful and succinct summary:
The Family is about the other half of American fundamentalist power—not its angry masses, but its sophisticated elites. Sharlet follows the story back to Abraham Vereide, an itinerant preacher who in 1935 organized a small group of businessmen sympathetic to European fascism, fusing the far right with his own polite but authoritarian faith. From that core, Vereide built an international network of fundamentalists who speak the language of establishment power, a "family" that thrives to this day. In public, they host the National Prayer Breakfast; in private they preach a gospel of "biblical capitalism," military might, and American empire. Citing Hitler, Lenin, and Mao as model leaders, the Family's current leader, Doug Coe, declares, "we work with power where we can, and build new power where we can't."
The Fellowship has been good at working both sides of the aisle; Burleigh features in a 2010 New Yorker article by Peter Boyer, talking about supportive messages Coe received from Bill Clinton. However, this moderate and bi-partisan impression came under critical scrutiny when Jeff drew attention to links between the organisation and David Bahati, the author of Uganda's notorious anti-gay law. Bahati himself later told journalists that
 …the idea for the bill first sprang from a conversation with members of The Fellowship in 2008, because it was "too late" in America to propose such legislation.
Also of interest from that guest list is Bill Hightower – he's a member of the Alabama legislature (R-Mobile, and elected last year), and he has hosted events in association with the National Prayer Breakfast in Washington, DC. He also has a long-standing interest in the Republic of Macedonia, and is friends with the ambassador, Zoran Jolevski.*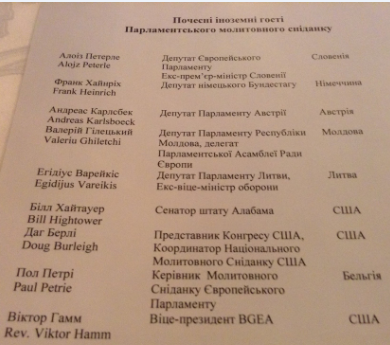 UPDATE (15 June): More on the Fellowship in Europe today.
Footnote
*Jolevski also took part in the recent National Day of Prayer event in Washington DC, listed as leading a "Prayer for the Nations" alongside "Ambassador" Bobby Little (Little is actually with an evangelical group called the "Christian Embassy", which is why I added quote marks). This is not a Fellowship activity, and it's an altogether less subtle affair than than the National Prayer Breakfast – this year's event saw Shirley Dobson denounce Obama as "the abortion President", prompting a Democrat participant to walk out.
Filed under: Uncategorized