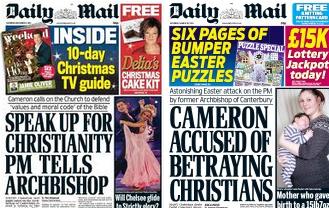 Left: Christmas 2011: Prime Minister David Cameron reportedly scolds Archbishop of Canterbury Rowan Williams for not doing enough for Christians
Right: Easter 2013: Former Archbishop of Canterbury George Carey reportedly scolds Prime Minister David Cameron for not doing enough for Christians
The top news story in the UK today is an "Astonishing Easter Attack" on the prime minister by former Archbishop of Canterbury George Carey. Taking to the Daily Mail (where else?), Carey writes:
…At his pre-Easter Downing Street reception for faith leaders, [Cameron] said that he supported Christians' right to practise their faith. Yet many Christians doubt his sincerity. According to a new ComRes poll more than two-thirds of Christians feel that they are part of a 'persecuted minority'.

Their fears may be exaggerated because few in the UK are actually persecuted, but the Prime Minister has done more than any other recent political leader to feed these anxieties.
The Mail also has a separate front-page article about the op-ed, headlined "Cameron Accused of Betraying Christians", although that's not a phrase that Carey himself uses; perhaps that's also the kind of thing that is "feeding these anxieties" and leading to "exaggerated" fears? Still, it's a nice turnaround from December 2011, when the Mail led with "Speak Up For Christianity PM Tells Archbishop", referring to Carey's successor, Rowan Williams.
Carey's talking points are for the most part well-rehearsed rather than "astonishing":
He seems to have forgotten in spite of his oft-repeated support for the right of Christians to wear the cross, that lawyers acting for the Coalition [government] argued only months ago in the Strasbourg court that those sacked for wearing a cross against their employer's wishes should simply get another job.

…If this is not enough, the legislation fails to provide any protection for religious believers in employment who cannot subscribe to the new meaning of marriage. There will be no exemptions for believers who are registrars. They can expect to be sacked if they cannot, in all conscience, support same-sex marriage.

Strong legal opinion also suggests that Christian teachers, who are required to teach about marriage, may face disciplinary action if they cannot express agreement with the new politically-correct orthodoxy.
I discussed the background to the case heard at Strasbourg here. Carey has been making such complaints for a while, and in 2010 he became associated with the Christian Right lobby group Christian Concern.
Incidentally, that ComRes poll does not yet appear to be on-line; it was based on a survey of "535 regular churchgoers, commissioned by the Coalition for Marriage"; Hope Not Hate has some background on this group (also known as the "Coalition 4 Marriage") here, and I noted related activities (and a previous poll) here.
Filed under: Uncategorized | 3 Comments »