From press release by Gregg Wooding of I AM PR Services ("Mission: Overcoming evil with Good [News]") on behalf of apocalyptic Christian author Joel Richardson:
Is it coincidence that Major Nidal Malik Hasan was a devout Muslim, that 90 percent of the current world fighting involves Islamic terror movements, that Islam is the world's fastest-growing religion climbing at four times the rate of Christianity, and that abuses associated with Sharia Law are sweeping the globe?

According to The Islamic Anti-Christ, Richardson doesn't think so. "I am trying to present a new paradigm without making people upset," Richardson said recently on the eve of the third printing of his popular book. "But, people have staked their careers on it," he said.

Richardson's end times theory is based on biblical scripture including Micah 5–"He will deliver us from the Assyrian when he invades our land and marches into our borders."

…Theories presented in The Islamic Anti-Christ continue to grow in popularity as the world watches the injustices of Muslim Law spread across the globe and infiltrate many sectors of U.S. society. Most recently the terrorist-style murders by Major Nidal Malik Hasan in Fort Hood, TX and the imprisonment of Maryam Rustampoor and Marzieh Amirizadeh, two Iranian women who converted from Islam to Christianity, are events Richardson points to on his website, www.joelstrumpet.com, as evidence of things to come.
Wooding is former PR man to Billy Graham and TD Jakes. Hilariously, the article also describes the shameless serial liar Joseph Farah as a "faith leader", and describes Richardson's spat with Hal Lindsey, who is not at all happy with Richardson muscling in on the market for bogus prophecy paperbacks aimed at credulous fundamentalists.
More on the "Islamic Anti-Christ" here.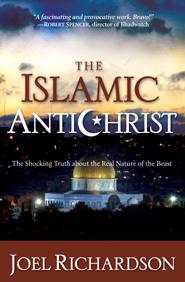 Filed under: Uncategorized | 5 Comments »