Claims police also searching for UK Observer journalist and Sophie Okonedo
Nigerian evangelist Helen Ukpabio has a threatening message for the state governor of Akwa Ibom (Nigeria), Godswill Akpabio:
"Governor Akpabio should note that Charles Taylor once held sway in Liberia but today is on trial for crime he committed while in office. He should also remember what happened to Saddam Hussein in Iraq and therefore we want him to remember that he would be held accountable for his actions while he was in power," the evangelist said.
Ukpabio and her lawyer Victor Ukutt are upset because Akpabio had intervened to protect the headquarters of the Child Rights and Rehabilitation Network (CRARN), which was recently raided by the police – with Ukutt in attendance. CRARN has in recent months gained international recognition for its work protecting children who have been accused of witchcraft by local evangelists, following the broadcast of an award-winning Channel 4 documentary in December.  This documentary went viral worldwide (it was also recently broadcast in Australia), and Akpabio has been under serious pressure to improve the situation. Helen Ukpabio, however, maintains thar CRARN's president Sam Itauma is a "wizard", and that the children CRARN protects really are witches who need "deliverance". She also alleges fraud, and that she has been unfairly villified – in particular, she was abused on a trip to London shortly after the programme aired. The programme also featured a secretly-filmed interview with her, in which she warned the programme-makers that she was a powerful person.
The threat against the state governor appears in This Day. The report adds:
Ukpabio accused the governor of using his position to frustrate attempts by detectives from the Police Special Fraud Unit, Ikoyi, Lagos to arrest one Sam Ita Uma, his wife and some British nationals namely Gary Foxcroft, Tracey Macvey, MagGaven and Sophie Okonedo who were being sought by the police over allegations of counterfeiting, and pirating of Ukpabi''s film/home video entitled "End of The Wicked" as well as sending threat signals to her.
This is somewhat garbled; Gary Foxcroft is a British citizen who works with CRARN, and he was the main guide for the documentary-makers. Sophie Okonedo is a famous British actress whose father was Nigerian; her only connection to the story is that Channel 4 hired her to narrate the programme. Tracy McVeigh, meanwhile, is a journalist who wrote a story on the subject for the Observer back in 2007, which I blogged on here. "MagGaven" is Mags Gavan, who made the documentary. Ukpabio also complains that her horror film End of the Wicked – which shows witch-children flying around at night and causing a man's eyes to drop out – was "pirated" by the documentary-makers when they used short extracts in the programme.
Meanwhile, footage has emerged of the conference on the subject which was held in Nigeria last month, which was invaded by more than a hundred of Ukpabio's followers in orange T-shirts; the conference's organiser, Leo Igwe, provided me with a guest-post here.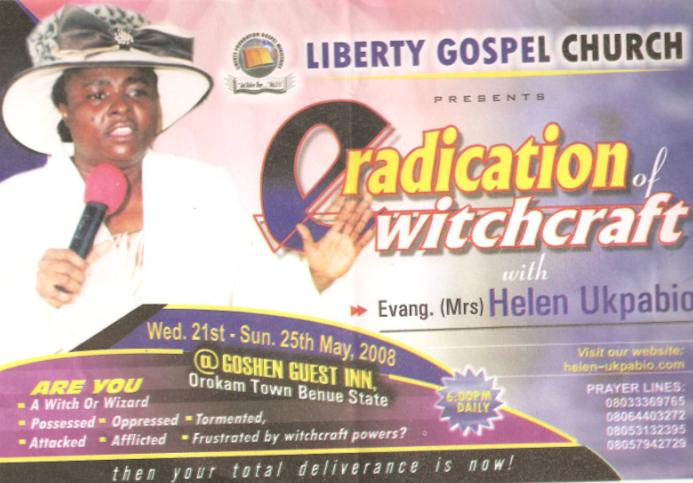 (Video hat tip: The Teapost Atheist)
Filed under: Uncategorized