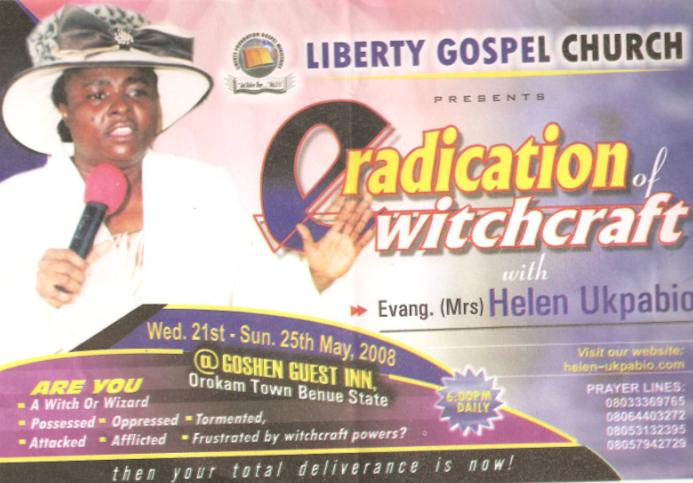 From the Daily Telegraph:
Ten years ago there were few cases of children stigmatised by witchcraft. But since then the numbers have grown at an alarming rate and have reached an estimated 15,000 in Akwa Ibom state alone.

Some Nigerians blame the increase on one of the country's wealthiest and most influential evangelical preachers. Helen Ukpabio, a self-styled prophetess of the 150-branch Liberty Gospel Church, made a film, widely distributed, called End of the Wicked. It tells, in graphic detail, how children become possessed and shows them being inducted into covens, eating human flesh and bringing chaos and death to their families and communities.

Mrs Ukpabio, a mother of three, also wrote a popular book which tells parents how to identify a witch. For children under two years old, she says, the key signs of a servant of Satan are crying and screaming in the night, high fever and worsening health – symptoms that can be found among many children in an impoverished region with poor health care…She denies that her teachings and films could encourage child abuse.
The article also explains that some children
are held in churches, often on chains, and deprived of food until they "confess" to being a witch.
The article goes on to describe the work of Gary Foxcroft, the British co-founder of Stepping Stones Nigeria. This organisation works with the Child Rights and Rehabilitation Network, which runs a refuge for children accused of witchcraft and tries to persuade parents to take back their children (the pic of the flyer above comes from the Stepping Stones website). Foxcroft's efforts will be highlighted in a documentary on British television on Wednesday, entitled Saving Africa's Witch Children.
I blogged on Ukpabio last year, and just a few days ago I noted the abusive comments I had received from her followers, including from readers who identified themselves as members of her family. One commentator told me that he has "personally come in contact with a child witch in my extended family who publicly made confessions on her witchcraft involvements". In my original piece, I suggested it would be good if some of the big-name international evangelists who hold "crusades" in Nigeria and elsewhere in Africa – such as Reinhard Bonnke – were to speak out against the hysteria. That doesn't appear to have happened yet.
A recent report in the Nigerian Daily Independent gives more information about Ukpabio's teaching:
…According to Ukpabio, there is white, black, and red witchcraft. She put quite a number of what people know today as secret societies, cult or religions as white witchcraft…"Some of the things they do are believed to have the potential of protecting the member and making him prosperous while harming the others in the work place, business place, school, the neighbourhood, or family…

"In black witchcraft, the spirit gets directly into the human spirit. It can be dropped into someone's food and it develops. If you are initiated into it, you can do a lot of evil to people in the society…"

She supported this with what the Bible says in the Book of Job, Chapter 41 verses 24 and 25. Ukpabio told the people that the witches practise their craft on their beds (meaning while asleep at night), coveting other peoples' fields and properties and taking them violently. Ukpabio cited a spot in the Calabar metropolis where she said the marine spirit is holding the people captive…

She said there are a lot of people who practise witchcraft without knowing and that most people become victims of witchcraft because of their ignorance of God, thereby becoming vulnerable to witches and demons. She said the marine spirit is witchcraft, adding, 'When it enters you, it does not want you to enjoy anything good or be prosperous. If you have the spirit of God in you, you will live to enjoy your life. If you have Jesus, then life will be sweet for you."

…She… condemned the belief and teaching of some secret cults that people who are good generally and do not bewitch other people or practically harm them cannot be attacked by evil men, evil powers, and witchcraft. "This is a false belief…They look for people who are not involved with God, have not repented or are not working in the vineyard of God. The witches look for the generous and liberal people to harm and destroy," she said.
The "marine spirit" is probably a reference to indigenous "Mami Wata" beliefs.
I've also blogged on child witches in Congo and on a minister famous for getting women to "confess" to being witches in Cameroon.
Filed under: Uncategorized