I'm a few weeks late with this, but here it is:
Christians from across Belarus are gathering in Minsk, the capital city of Belarus, to protest against the government detention of two Christians during a police raid on a church service.

…Pastor Bokun was accused of "organising and holding religious meetings without special approval". He was held overnight and fined. [Jaroslaw] Lukasik was also accused of illegal involvement in the service, but he was released and now face the threat of deportation.
June 5 (link added):
President Alexander Lukashenko of Belarus has received the highest award that the Russian Orthodox Church bestows on secular people – the order of St Vladimir of the First Degree.

…The presidential press service said Lukashenko received the award for considerable contribution in the development of relations between various religious denominations and between countries.
Cozy relations between Lukashenko and the increasingly-powerful Russian Orthodox Church go back some time, and Patriarch Alexis has in the past doled out Order of St Vladimir awards to some of Lukashenko's goons. Last year I quoted a "Letter from Minsk" in Private Eye that included the following:
A few years ago [Lukashenko] presented the Russian Orthodox Patriarch with $85,000 worth of gold, silver and jewel-encrusted banners for the Cathedral of Christ the Saviour in Moscow. In return, Patriarch Alexis II commended Lukashenko for resisting the "cult of force, self-destruction and lack of morals that permeate the west", then he decorated senior Belarus KGB men (we have not bothered to make the secret police sound more customer-friendly) with the Order of Apostle Grand Duke Vladimir (no relation) for "decisive implementation of the government's policy of spiritual development of the nation."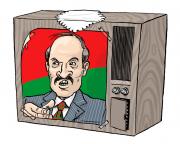 (The above cartoon is one of a number by Belarusian dissidents that have been banned)
Filed under: Uncategorized | 2 Comments »