Back in December 2021, the cancellation of an anti-cancel culture conference in London caught the journalistic ear for irony and alliteration. The Mirror was a typical example:
Nigel Farage's anti-cancel culture conference has been cancelled.

'Counter Conference', a right-wing talking shop to take place at The O2's 3,000 capacity Indigo venue next week was set to feature the former Ukip leader, fresh from interviewing Donald Trump on GB News.

Provocateur Laurence Fox, former Trump aide Jason Miller and former US Housing Secretary Ben Carson were also set to appear at the event, organised by Mr Miller's right-wing Twitter alternative GETTR.

But organisers pulled the plug on Tuesday night, blaming new Covid border rules which require self-isolation on arrival in the UK.
The O2 blurb can be seen here – it was due to take place on 8 December, and was billed as "the inaugural 2021 Counter Conference".
The initial heads up came from the Spectator, which also included Mahyar Tousi to the list of names and suggested that lack of demand also played a role:
Steerpike understands the event has suffered from poor sales, selling under 400 tickets. Event organisers are said to be blaming the O2's stringent vaccine passport policies for the lack of demand.
On GB News, Miller told presenter Mark Dolan that the event had merely been postponed to "the first or second week of March" in 2022. He also listed some other speakers on the line up, as Dolan grinned and nodded along:
Seb Gorka, Jack Posobiec, Raheem Kassam… and about 25 or 30 European members of parliament
Elsewhere, Miller also promised "folks from Brazil", presumably referring to members of the Bolsonaro administration.
Fox's Reclaim Party later announced that the event would take place on 22 April 2022, but that was the last that was heard of it. The cancelled counter conference thus remains a counter-factual, and we never got to see Laurence Fox on stage with Jack "Pizzagate" Posobiec. However, the affinity is worth noting, given this recent profile of Posobiec.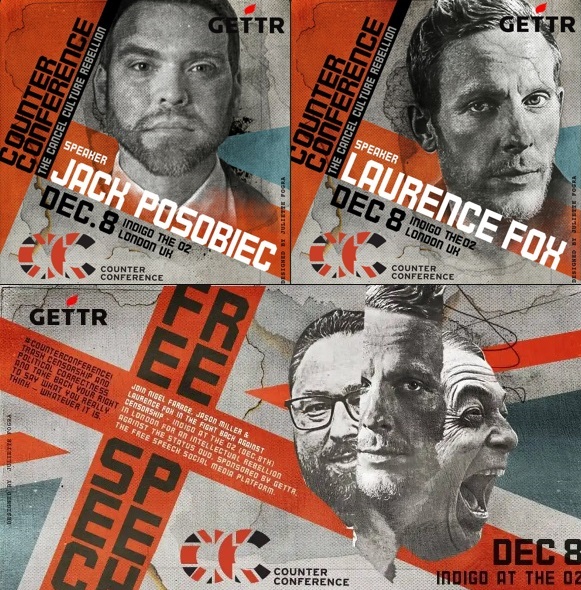 Collage of three "Counter Conference" flyers
Filed under: Uncategorized | Leave a comment »