On Twitter, Conservative member of Parliament Angela Richardson commends rival platform Parler:
Not everyone on Twitter is hard left. Not everyone on @parler_app is hard right. I care about protecting free speech. I detest pile ons on figures both on the left and right. We need to promote our free and tolerant society, not inflame hatred.
Richardson was one of several MPs to join the platform over the weekend; as of last night, Mark Bartlam noted the presence of "Steve Baker, Ranil Jayawardena, Ben Bradley, Mark Jenkinson, Maria Caulfield, Angela Richardson, Luke Evans, Therese Coffey, Nadine Dorries, Dean Russell, Henry Smith, Rob Roberts". There may be a risk of impersonation with some of these, although some MPs, like Richardson, have independently confirmed they are on the site.
One crucial difference between Twitter and Parler is that unprotected Twitter content is visible on search engines and can be accessed by anyone via a web browser. In contrast, Parler content is visible only to people who have signed up to the service. If, then, constituents or the wider public want to know what their MP is saying on Parler, they have to become a member – and that means joining a platform that clearly exists to promote and consolidate Trumpism. [UPDATE: As of early 2021, and probably earlier, this is no longer the case. Posts can be viewed by non-members, and are captured by Google].
A Twitter user named Steve Shaw went through the sign-up process, and this is what he saw:
Immediately you're given a choice of "unbiased" people to follow, including Eric Trump, Team Trump, some Trump supporters and apologists, Rand Paul, and a few rightwing grifters. The list quickly cycles and repeats
Further:
On the "discover" page, you're met with nothing but rightwing propaganda [here]; As soon as you join you auto-post a message, then you get a recruitment message from Team Trump and a couple of bots [here]; When you click search, you get the same alt-right grifters and more Team Trump stuff [here]; The trending hashtags are exactly what you'd expect [here].
Those prominent hashtags include tags promoting the QAnon conspiracy theory. Shaw also discovered crudely racist content by "randomly scrolling" [here]. The news sources promoted to users are almost exclusively fringe-right, such as the Daily Caller, Epoch Times and Zero Hedge and Bongino Report; Mic Wright found the same thing when he signed up, with Breitbart heading the list.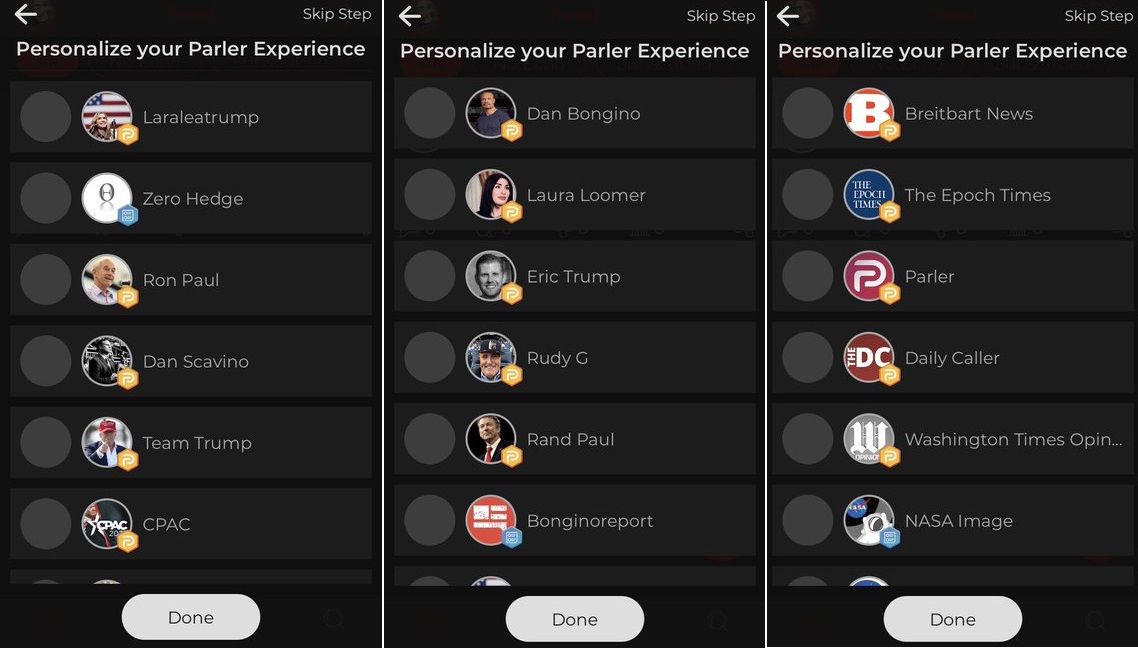 Some may be under the impression that this merely reflects what is popular, and that if there is an influx of new users and new media-linked accounts with different views then the recommendations will change. However, given the site's rightward momentum such a shift seems to me unlikely: also, Dan Bongino's prominence on the platform may have something to do with the fact that he is a Parler "partner", with an "ownership stake in the firm". Parler CEO John Matze, meanwhile, was interviewed by Lara Trump last August.
The British MPs are not being explicit about why exactly this weekend was when they chose to join up, although it is just a few days after Katie Hopkins was "permanently suspended" (i.e. banned) from Twitter. Parler, in contrast, adheres only to the Federal Communications Commission's guidelines when it comes to removing anti-social content. However, as noted by The Forward last July:
John Matze, the self-described libertarian engineer behind Parler, says his goal is to provide an alternative to Twitter by fostering political discourse more like what you get in real life, when face-to-face conversations mitigate much of the anger. He hasn't succeeded as yet, however. Parler is full of fury, fear and conspiracy theories. What's more, the platform doesn't have the technology or resources necessary to contain the Jew-hatred and Islamophobia so easily found there.
The fact that Twitter is both a private social media platform but also now communication infrastructure is doubtless a tricky balancing act, and Twitter doesn't always get it right; but a popular platform that doesn't make any serious attempt crack down on hate speech is very likely to become swamped by it, whatever the intentions of those who join.
Filed under: Uncategorized