The Times reports:
The man whose allegations sparked Scotland Yard's disastrous paedophile inquiry can today be revealed as a former NHS manager, school governor and father of one.

Carl Stephen Beech, 50, is the man who has been known publicly only as Nick since 2014 when Scotland Yard launched Operation Midland based on his claims of murder and abuse by a paedophile ring.

Mr Beech… faces 12 charges of perverting the course of justice and one of fraud after the collapse of one of the Met's most prominent inquiries. He is accused of profiting from alleged lies about murder, abuse and torture by fraudulently claiming £22,000 from the Criminal Injuries Compensation Authority. [1]

…Scotland Yard's £2.5 million inquiry relied solely on Mr Beech's abuse claims that he made against VIPs including Lord Bramall, 94, the Normandy veteran and former chief of defence staff, and Harvey Proctor, a former Conservative MP. Both were interviewed under caution during the 18-month inquiry before they were exonerated in 2016. 
The development has been reported in various newspapers – the Daily Telegraph has even put him on the front page.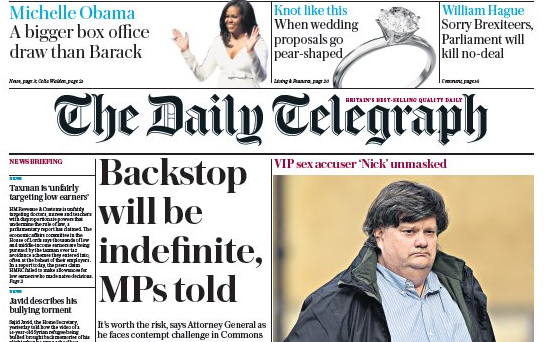 Carl Beech's identity was not much of a secret – "jigsaw" identification has been possible for a long time, and in 2016 Associated Newspapers was fined after it published his photo with such minimal pixelation that he could be readily identified by anyone who knew him (see below). He has also previously been named by various individuals on social media.
The removal of Beech's right to anonymity is an important step in achieving justice for those who were targeted by Operation Midland, in that while their alleged accuser remained in the shadows a thoroughgoing dismantling of the false allegations attributed to him by police and media has been impossible – thus despite the police exoneration, users of an #IBelieveNick hashtag have continued to assert the guilt of those who were falsely accused. It also remains to be told how the allegations were promoted by various groups and politicians, and the simple fact that we can now say that Nick's real name is Carl opens new avenues here.
However, we are not quite at the destination: Beech will not face trial until May, and in the meantime we must take care to avoid writing anything that might be prejudicial or subject to reporting restrictions. Beech's lawyer has indicated that his client intends to contest the allegations, and we do not know what defence may be offered – that is why I am careful to refer to claims attributed to Beech. I make no comment or speculation here about what Beech may have said to police or why. That does not mean, though, that we must pretend to be agnostic about false allegations. It will be Beech on trial next year, not the Operation Midland suspects [2].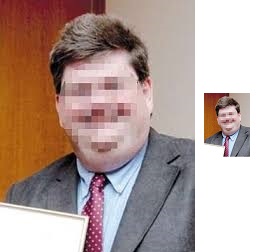 The poorly pixelated photo of Carl Beech ("Nick") that led to Associated Newspapers being fined in 2016. Note that the pixelation virtually disappears when the image is made smaller.
Footnotes
1. According to the Daily Mail:
The fraud charge alleges that he falsely claimed £22,000 in criminal injuries compensation by saying 'he was subjected to abuse by a paedophile ring, knowing this to be untrue and intending thereby to make a gain for himself'.
Both reports could have been clearer that this relates to one particular allegation attributed to Beech, concerning one specific public figure. There seems to be no good reason why this person is not named, but without further guidance I won't mention him either.
2 . Limits around what can be said at the moment may also be used opportunistically. Thus the journalist Mark Watts writes on Twitter that:
Part of the complication for media re naming is that there are allegations of child sexual abuse made by 'Nick' where he has not been charged with attempting to pervert course of justice or fraud.
This may imply that some allegations are stronger than others, and that the prosecution is being selective. However, allegations attributed to Nick include claims against people who are dead. In such cases, it is impossible to pervert the course of justice because there can be no trial; and the lack of any fraud allegation may merely indicate that no compensation was ever sought.
Filed under: Uncategorized | 33 Comments »