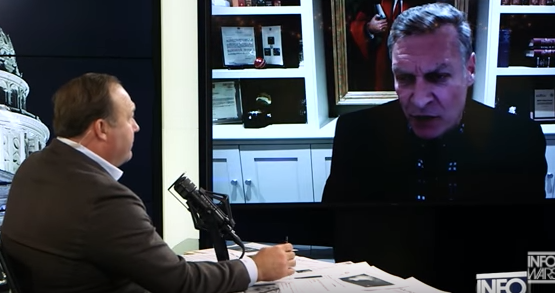 From WND:
"Spirit cooking." Occult imagery outside meetings of the most powerful people in the world. Bizarre rituals held at globally important events…

Global insider Theodore Roosevelt Malloch… has a disturbing answer. It's "Luciferianism." And Malloch described the ideology and its influence on world leaders in a recent interview on Infowars.

..Malloch identified many people in the E.U. hierarchy and in the Democrat Party as aligned with this belief. He explained how Lucifer is seen as a symbol of independence and of true human progress.

…Malloch said the leaked emails of John Podesta, as revealed by Wikileaks, contain powerful evidence there is something sick and wrong in America's political class.

…"They prove he is involved, very deeply involved, as a committed Luciferian," Malloch intoned. "Among other things is the invitation by Marina Abramovic to what is called a 'spirit cooking' ritual, which I think is the most revealing.

…Malloch further contended cannibalism and pedophilia are "common practices amongst Luciferians."
The long-distance interview was with Alex Jones, and the official Alex Jones Channel has uploaded it to YouTube here. It follows an earlier appearance with Malloch in the studio, which Jones uploaded on 8 December as "Former Head Of Davos Group Talks About The Elite Practicing Satanism And The Occult".
There's no evidence here that Malloch had anything to say to Jones that comes with the authority of being a "global insider". Saul Alinsky's jocular literary reference in 1971 to Lucifer as "the first radical" is frequently touted as evidence by some conservatives that liberals are literally in league with the devil, while lurid allegations about "spirit cooking" that were promoted by Wikileaks collapse under scrutiny. (1)
It is remarkable that Malloch was a year ago regarded as a serious commentator. An American business academic based in the UK, Malloch made various television appearances as a apparent expert on Brexit and the rise of Donald Trump – including on Newsnight and This Week.
It was also widely reported that Trump was intending to make Malloch the US Ambassador to the European Union (indeed, that he was the "frontrunner"), but although the claim was taken at face value across the media in both the UK and the US, the basis for it was oddly hard to pin down. The prospect even drew formal critical comment from the EU officials Manfred Weber and Guy Verhofstadt – which was in turn condemned on Aaron Banks's Westmonster website as "EU Nationalists attempting to block Trump's EU Ambassador" and by Nigel Farage on Twitter. Farage had interviewed Malloch on LBC in January, describing him as "the man tipped to be Trump's EU ambassador", and he provided an Afterword for Malloch's book Hired: An Insider's Look at the Trump Victory, which was published in the same month. (2)
However, things fell apart in February, when a bit of journalistic digging found a discreditable financial history and questionable claims about his academic status. The Financial Times reported at the start of the month:
This week the FT identified a number of misleading statements in Mr Malloch's autobiography, including claims that he was "knighted" into the Sovereign Order of St John by the Queen and called a "genius" by Margaret Thatcher.

…He has built his credibility on associations with a wide variety of well-regarded institutions, from Yale University to the World Economic Forum. However, many of his roles have ended after two years or less.
The paper later added a footnote to its article "in response to false statements by Mr Malloch" about its reporting – in particular, it noted that BrexitCentral.com had "published a correction and apology above an amended article that had previously contained some of Mr Malloch's false statements". The footnote also rebutted claims made by Malloch at Breitbart. A later piece in the FT discussed court papers in the US alleging that Malloch had "made false statements to deceive two US banks into giving him multimillion-dollar loans", and it noted that Malloch had filed for bankruptcy in 2013.
Eventually, the Wall Street Journal confirmed in May that according to "officials in Washington", Malloch "is not and never was a candidate" for the ambassadorship.
Footnote
(1) Jones was careful to distinguish these claims from the related "Pizzagate" story that he apologised for promoting in March, following a legal threat. Inevitably, he now claims that "Pizzagate" was deliberate misdirection created by those who want to cover up the real conspiracy.
(2) The book was published by Joseph Farah's WND Books on 9 January 2017, and came with several blurbs on the preliminary first page. The first of these was from the birther conspiracy theorist Jerome Corsi.
Filed under: Uncategorized | 1 Comment »