A dramatic front-page splash from the Mail on Sunday: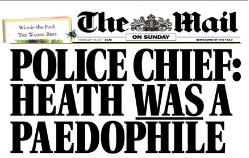 The online version expands on the claim:
Sir Edward Heath WAS a paedophile, says police chief: Astonishing claim is made that the former PM is guilty of vile crimes 'covered up by the Establishment'
However, neither version of the headline makes clear that this all according to unnamed "sources". Wiltshire Police has been trawling for allegations against Heath (who died 12 years ago) via Operation Conifer since August 2015, but Chief Constable Mike Veale has not made any public statement announcing Heath's guilt. According to a police spokesman quoted at the end of the article (emphasis added):
…the Chief Constable was determined to 'ensure the investigation is proportionate, measured and legal' and that the job of the police was to 'impartially investigate allegations without fear or favour and go where the evidence takes us. It is not the role of the police to judge the guilt or innocence of people in our criminal justice system.'
The spokesman also declined to comment on a claim that Veale believed the allegations "120 per cent" – a striking phrase that is now likely to define Veale's career, just as the words "credible and true" will be forever linked with the Metropolitan Police's "Operation Midland" fiasco.
According to the article, "more than 30 people have come forward with claims of sexual abuse" against Heath, and some accusers "are believed to have told police they went on to commit sexual abuse crimes themselves as a result". Further, according to a "source":
'There are very close similarities in the accounts given by those who have come forward. The same names used for him, the same places and same type of incidents keep coming up.

'What stands out is that the people giving these accounts are not connected but the stories and the details dovetail…'
This may amount to strong evidence against Heath, but without more detail it is impossible to assess whether the "close similarities" really reflect uncontaminated independent testimonies. Several allegations against Heath appeared in the media in 2015, and there is also a wealth of online conspiracy material about Heath and other politicians. If police have been merely comparing interview notes, this may not have been properly taken into account. (1)
Operation Conifer has been controversial from the beginning: police are apparently going through Heath's papers looking for evidence, and late last year the Mail on Sunday revealed that one accuser was making particularly incredible allegations that linked Heath to Satanic Ritual Abuse; this person had been under the care of a therapist who had "recovered" the memories.
The article also outlines some known allegations against Heath
The claims, some of which have been proved false, include alleged links to a convicted brothel keeper known as Madame Ling-Ling. A paedophile dossier compiled by Labour peer Baroness Castle said he offered young boys trips on his yacht, and in a separate incident one man claimed Sir Edward picked him up hitchhiking in Kent as a 12-year-old in the 1960s and lured him to his Mayfair flat.

Labour MP Tom Watson also said he had received allegations about Sir Edward. However the claims Mr Veale is investigating, which date from the 1960s to 1990s, are not linked to the discredited evidence of the man known as 'Nick', who alleged a high-level paedophile ring.
[UPDATE 2019: "Nick" can now be named as Carl Beech, and his claims have been found to have been fraudulent. More details here].
This needs some unpicking. First, Myra Forde (aka "Madame Ling-Ling") ran a brothel in Salisbury, where Heath lived in retirement. In 1991 she was facing prosecution, and she apparently raised Heath's name in the hope that the authorities would be deterred from taking action. The trial was indeed dropped, although for unconnected reasons and she was successfully prosecuted in 1995. She did not name Heath at this later trial. Her brothel involved underage girls, which is significant given that the allegations against Heath concern boys.
Second, we have no evidence that Barbara Castle ever compiled a "paedophile dossier". The claim that such a dossier existed comes from a journalist named Don Hale, who says that Castle gave it to him in the 1970s but that it was taken from him by police before he could use it. Hale's claims appeared 2014, but he made no mention of Heath. His article on the subject in the Sunday Mirror also included a number of direct quotes that he attributed to Castle, although he did not explain how he was able to remember what she had said to him so exactly decades before. I discussed this in more detail here.
Third, claims that Heath took children out for a spin on his sailing yacht are only sinister once one has decided that he must have been an abuser. But according to accounts, he took children out in groups, and his yacht was a racing vessel with a a three-man crew and without any private space. This is hardly conducive to committing acts of abuse.
Fourth, the 1961 "hitchhiker" accuser mentions a grand apartment, which was inconsistent with where Heath was living at the time, but which reflects a dating error that appears in a biography of Heath.
I discussed all these allegations (and others) against Heath in 2015.
According to the Mail on Sunday article, Wiltshire Police intends to publish its report in June – although in December, Veale said that his final report would be "confidential". So, that's at least three and a half months during which conspiracists and those who enjoy making allegations of "VIP paedophilia" will be deluging social media with the most lurid assertions – all based on the authority of what a Chief Constable allegedly "believes", but without any substantiating detail. And even come June, we may still be none the wiser.
The Mail splash also includes a sensationalizing sub-section heading, titled "Do These Photos Undermine Ex PMs defence?" Such a heading obviously implies compromising material, when in fact the photos merely show that, contrary to a claim otherwise, Heath owned a car and drove it himself in 1975.
UPDATE (20 February): In response to the article, Veale has put out a bland statement in which he reiterates a complaint he made in December about "unhelpful and inappropriate speculation".
Meanwhile, the Daily Mail has for some reason rehashed parts of the Mail on Sunday's November splash about how several women (who appear to be connected to each other) had accused Heath of being involved in Satanic Ritual Abuse. This in turn forms the basis for an article in the Sun, but neither new piece contains any new information.
Footnote
(1) An example: in the case of Operation Midland, the Metropolitan Police were particularly impressed by the accuser's ability to describe a private location where he was supposedly abused as a child – but they were unaware that the location held open days for tourists, and that the accuser had visited there just a couple of years before.
Filed under: Uncategorized | 1 Comment »