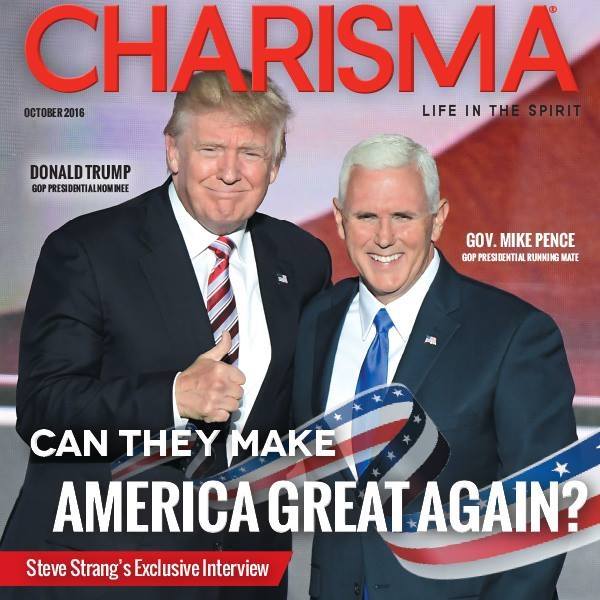 In 2005, Time magazine listed publisher Stephen Strang as one of "The 25 Most Influential Evangelicals in America", observing that
the former journalist, 54, has been a Bush favorite ever since his homegrown Christian publishing house, Strang Communications, released The Faith of George W. Bush, the first spiritual biography of the President, in 2003… Strang's lead publication, Charisma, chronicles the fast-growing charismatic movement and has become powerful enough to wrangle a Bush interview last year.
These days, Strang Publications is known simply as Charisma Media. Charisma, according to a statement, "is read by more than 200,000 monthly, with four million unique online visitors per month."
Strang originally endorsed Ted Cruz for next president, but Charisma is now officially – and enthusiastically – behind Donald Trump. As Strang himself writes:
The election was one of the topics I discussed Monday with Jim Bakker when I was a guest on his program. We talked about the October issue of Charisma, in which I endorse Trump for president and included powerful articles by Pastor Jim Garlow and Lance Wallnau that we've featured online.
Strang also took aim at "so-called evangelicals who are liberal and support Clinton in spite of her policies and beliefs that run counter to what we believe".
Strang's article was written in the wake of a "call to prayer" to support Trump ahead of Monday's debate with Hillary Clinton; Right Wing Watch has the details:
On Sunday evening, Charisma posted an article calling for "urgent prayer" for Donald Trump for Monday night's debate. The article said that former Trump adviser Frank Amedia had received a revelation from God and "began making phone calls to drum up support for the Kingdom Wide Prayer Watch." Among those who got involved were Cindy Jacobs, Rick Joyner, Mario Bramnick, Lance Wallnau and Paula White.

Trump is on the focus of the October issue of Charisma magazine, whose cover story is Lance Wallnau's tale about how God told him that He is raising up Donald Trump like the biblical King Cyrus. This week Strang posted a two-part podcast interviewing Wallnau about Trump's "anointing" as a "prophetic" instrument of God's purposes.
Of course, the "Kingdom Wide Prayer Watch" was not just a call for God to intervene – it was also political theatre, designed to impress on American readers that it is their crucial religious duty to vote for Trump, whose personal failings have been spun by James Dobson as the stumblings of a "baby Christian" who has only recently come to accept Jesus. Within the neo-Pentecostal and charismatic movement, leaders often claim to receive clear instructions about God's purposes, and as such to disagree with someone like Rick Joyner on politics amounts to going against God.
However, Strang is not just playing on readers' religious sentiments – Charisma also publishes rather more worldly anti-Clinton articles, of a sort more likely to be found on WND or Gateway Pundit. Here's RWW again:
This week Bob Eschliman wrote that Clinton's much celebrated shimmy after Trump said he had a better temperament to be president was in fact evidence of "medical episode"—Eschliman laughably mischaracterized Clinton's mocking "whew, OK" as a "Howard Dean yell" and described her shimmy as troubling a "shudder" and "tremors."

Eschliman is also flacking right-wing conspiracy theories that Clinton "cheated" during the early national security forum and Monday night's debate by wearing a hidden ear piece that she could have used to get instructions from her campaign team.
That latter story was also picked up by WND, which credited Charisma (1). I wrote about Eschliman's anti-Clinton polemics not long ago – Eschliman was previously employed by the Newton Daily News, but he was fired over his personal blog, on which he railed against the "Gaystapo". Eschliman alleged that his termination was religious discrimination, and with the assistance of the Liberty Foundation he reached a confidential settlement last year.
Charisma also promotes the work of a certain Michael Snyder, an Alex Jones-style "economic collapse" conspiracy theorist who accuses politicians of worshipping Satan in Illuminati rituals and warns of demons entering our world through "portals" created by scientists or archaeologists (2). Snyder has diagnosed Clinton as suffering from ailments that range from tongue cancer to Parkinson's Disease, and he suggests that she may even be dead by the time the election arrives.
All published by a site that presents itself as "the most trusted source for credible news and insight from a charismatic perspective".
Footnotes
(1) There is particular overlap between Charisma and WND in the person of "End Times" prognosticator Jonathan Cahn. Cahn's best-selling Harbinger was published by Charisma Media, and Strang believes that the book came into being due to the direct intervention of God, who engineered a chance meeting between Cahn and a friend of his. WND meanwhile published a tie-in DVD called The Isaiah 9:10 Judgment. WND also recently published an article complaining that the New York Times is not giving Cahn his due on its bestseller lists, although the article was mysteriously deleted after a few days. Cahn and WND CEO Joseph Farah (Trump's go-to birther) have also led WND-branded tours of the Holy Land, in one instance in collaboration with Jim Bakker.
(2) This is more evidence of what I called "The David Ickeization of Christianity" in relation to Jim Bakker in July. Bakker these days heavily promotes conspiracy theories, which are often then publicized on Charisma.
Filed under: Uncategorized