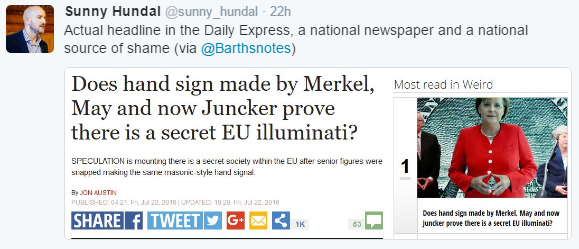 (Sunny's Tweet here)
From the Daily Express:
Does hand sign made by Merkel, May and now Juncker prove there is a secret EU illuminati?

SPECULATION is mounting there is a secret society within the EU after senior figures were snapped making the same masonic-style hand signal.

By JON AUSTIN

European Commission President Jean Claude Juncker was the latest EU bigwig to be photographed "giving the code" after he was snapped with his hands in the rhombus shape – known as a Merkel Diamond…

It comes after new British Prime Minster Theresa May was pictured separately making the same hand gesture earlier this month.

German chancellor Angela Merkel has been snapped so many times making the shape, which involves pressing the thumbs and index fingers together to create a diamond, that her name was added to its official description…

Other famous faces including Gordon Brown, the Duchess of Cornwall and Recep Tayyip Erdogan have also been spotted making the 'Merkel diamond'.
The article cites "conspiracy theory website illuminatiRex" and "the conspiracy theory forum run by David Icke", and is filed under the paper's "Weird" section. It is fair to say that the paper has run the story primarily for entertainment value, and that readers are not expected to take the claim very seriously.
However, as I noted just recently in a post about claims that CERN had "opened a portal" to a demonic realm, material from the Express does feed conspiracy theorising, as well as just reflecting it. In the CERN example, an Express article was used as a source for an piece published by Charisma News, which belongs to an American evangelical media empire.
Other "Illuminati" articles run by the Express include "Inside Bilderberg: Leaders and elites meet in 'illuminati' style to decide New World Order" (also by Austin); "Chillingly accurate 200-year-old letter predicts WW3 and final battle against Islam" (by Selina Sykes, relaying Albert Pike's views on the subject); "EXCLUSIVE: 'Secret plan to inject us ALL with ID chips through vaccination programme'" (Austin again – "Mr Parkes, who also works as a driving instructor, said the Illuminati were about to start their twisted chipping programme in the new year"); and "REVEALED: Inside the 5 secret societies that REALLY control the world…" (by Sykes – "Rumours say the entertainment and music industry have been infiltrated by Illuminati members who are using the media to brainwash the masses).
Meanwhile, "lifestyle and travel" correspondent Felicity Thistlewaite has chipped in with "CHERYL FERGISON, famous for playing Heather Trott in EastEnders, has accused Katie Hopkins of being an Illuminati member."
Jon Austin covers "science, nature and the paranormal" for the paper. Recent pieces include "Moment 'Nasa cover up' caught on film as 'buildings on the moon' discovered"; "Second UFO researcher dies fuelling claims of 'Men in Black' murder spree"; and "SHOCK CLAIM: 'World will END' when poles flip and mega earthquake strikes ON JULY 29".
UPDATE: The story has been picked up by the Daily Mail, which writes of "a bizarre internet conspiracy theory"; this article in turn has received a link from the US conservative website WND, a few of whose commentators have taken the proposition seriously:
Hmm….Bilderbergers…etc…They all want a "One world Government"…

Can the Bible be anymore accurate people?????

Read Your Bible!!

…and you will know why we don't want Hillary in Office..and Obama ruling the World!

***

and we have another terror attack in Germany….. thanks merkelmuslim….

***

If you truly want to understand the nature of the Satanic Conspiracy we are facing, read your Bible and join the John Birch Society. JBS has been educating Americans about this threat for 50 years. The Word of God has been doing it for thousands of years. Don't worry though, God laughs at their plans and He tells us so in His Word.

***

That is such an unnatural (uncomfortable) position to put one's hands in, makes you wonder why anyone would do that except for a specific reason (or formerly broken hands?)
Filed under: Uncategorized | 2 Comments »