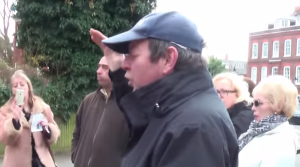 From the Daily Mail:
…At morning service at the church attached to Christ Church primary school yesterday [Sunday], parishioners were confronted by a group of between 20 and 30 of [Ella] Draper's supporters, who hurled abuse at them and held up their mobile phones to film them as they arrived.

'Paedophiles,' screamed one of the protesters. The group — or 'mob', some might say — were eventually moved on by the police.

Some of those who attended the church service were left visibly upset by what happened. Remember, this was a Sunday morning in genteel Hampstead.
Draper, as has been widely reported, coached and coerced her two young children into making lurid videos in which they made extravagant claims of Satanic Ritual Abuse against their father and individuals associated with the school, church, and locality. The children alleged not just child sex, but also the ritual murder of babies, brought in from other parts of the world. They further claimed that babies are cooked and eaten at a nearby fast-food outlet, and that a shoe-repair shop makes baby-skin shoes for cult members.
I noted the case a couple of days ago, and how these bizarre fantasies had been spread online in particular by two associates of the mother: Sabine K McNeil, who has form when it comes to blundering into custody cases, and Belinda McKenzie, who is David Shayler's former landlord and heavily involved with conspiracy mongering and Truther activism in the UK.
Videos have now been posted to YouTube that show the mob outside the church, and it's an extraordinary sight. They include the most vocal protestor, an American named Christine Ann Sands, screaming the children's first names, so in deference to a court order that forbids re-publishing this detail there is no link on this site.
At the start of the first video, Sands is shown "binding the demons" at the church, and she also calls on Jesus. However, I doubt that this reflects any specific religious affiliation – she goes on to accuse the churchgoers of "fucking children", which most Charismatic/neo-Pentecostal Christians would regard as unacceptably coarse. She also references the "murder of Princess Diana", and like McKenzie she's known primarily as a conspiracy theory activist. Sputnik News has a profile from 2013:
Christine Ann Sands one of the chief organizers and one of the few public faces of Anonymous spoke to the Voice of Russia, in an exclusive interview, about the Million Mask March, Hacktivism, WikiLeaks and the truth movement. According to Ms. Sands the American people have been hijacked by evil forces that were behind the 9-11 attacks and that continue to control the US government, the media and political parties… Ms. Sands says the people know something is wrong and this is where those fighting for truth such as Anonymous, Occupy and WikiLeaks come in. Massive marches and demonstrations are planned for November 5, 2013, in defense of the truth.
Sands has also – perhaps inevitably – appeared on RT (Russia Today), explaining her involvement with the Million Mask March. Her association with Anonymous appears to be contested, though, with some sites disavowing her.
However, the crowd around Sands at the church did not look like Anonymous or Occupy types: rather, the chance to abuse innocent churchgoers by accusing them of the foullest of crimes seems to have appealed to a number of affluent-looking, middle-class and middle-aged women. This is far cry from the "Paulsgrove woman" council estate anti-paedophile hysteria that we saw in Portsmouth in 2000.
And as with the Satanic Ritual Abuse panics of the 1980s and 1990s, there appears to be a religious element: one of the other protestors, a Scottish man, raised his arm, closed his eyes, and led a prayer delivered in a way that would be instantly familiar to anyone who has attended an evangelical Christian service. His words:
… Lord Jesus, just open up this time of prayer among these good people who have gathered in protest against what is happening with these children, associated to this church and the local primary school… Lord, we call on good police officers, who know what's going on. We call on the police officers who have been told by their senior officers to stop this investigation. Lord, just empower these people. People worried, they need their jobs, need to pay their mortgage. Lord, just open their eyes… Lord, just expose this sinister circumstance, Lord.
Applause and cries of "yes" from the crowd.
UPDATE: Also present among the protestors was a certain Neelu Berry, who previously took part in protests organized by Belinda McKenzie outside the High Court. Berry spends her time attempting to arrest judges, and she has also issued an indictment against "Mrs. ELizabeth M.A. Battenberg/MountbattenWindsor".
UPDATE 2: The posters on a forum here and here have further details on Berry and some of the other protestors, who apparently subscribe to "Sovereign Citizen" beliefs. I always thought of this as an exclusively American movement, which I wrote about here; apparently, it has broader appeal. One poster notes that a video statement by the children's mother, in which she repeats her allegations, also includes nonsensical content relating to "commercial liens" and such; this pseudo-legalese rhetoric is identical to examples of Berry's writings.
Filed under: Uncategorized