While researching another subject I had reason to cast an eye over Alan Lake's "4 Freedoms Worldwide" website. Lake, as has been widely reported, is a businessman who has supported the English Defence League in various ways, and his "4 Freedoms" website is a discussion forum for criticising Islam in the name of defending Western civilisation.
Here'a a diagram he posted on the subject of "Left Wing vs Right Wing". Oh dear: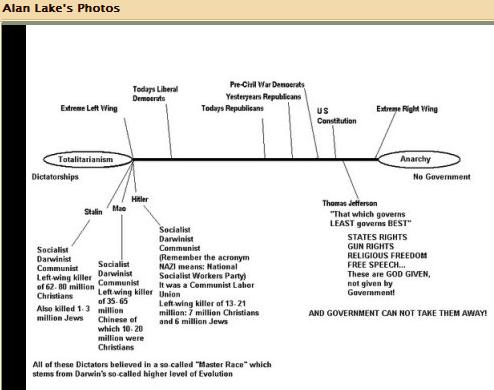 The spelling shows that this has come from an American source; the reference to "Liberal Democrats"  – placed close to "Totalitarianism"  – clearly refers to the liberal end of the US Democratic Party than to the centre-left UK party of that name. The fun stuff is the descriptions of the three dictators, with Stalin, Mao and Hitler all described as "Socialist Darwinist Communist killers". At the base we read:
All of these Dictators believed in a so called "Master Race" which stems from Darwin's so-called higher level of Evolution.
Filed under: Uncategorized