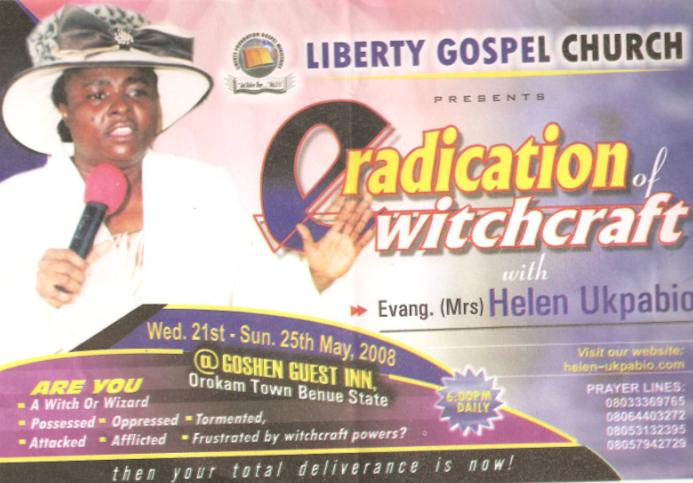 The Nigeria This Day has the latest from evangelist Helen Ukpabio, who has endured global opprobrium since a British television documentary suggested in November that her campaign against child witches had led to children being abused in the Nigerian state of Akwa Ibom. Her film End of the Wicked was named as having contributed to the hysteria. However:
"There was no place in the film where children were branded witches rather, we saw greedy children initiated into witchcraft by other children who were witches in the school," Ukpabio explained.
She's taken this line before, as I blogged here, but it remains an incoherent objection. We're also told that Ukpabio:
is suing Channel 4 and the documentary's narrator, the actress Sophie Okonedo (mis-spelt as "Sophie Okowedo").
has complained to OFCOM, the British television regulator, about the programme.
has demanded that a home for children stigmatized as witches be shut down as a "419" and its operators – Gary Foxcroft (mis-spelt as "Gary Fox Croft") and Sam Ikpe-Itauma (mis-spelt as "Sam Ikpe-Itauman") be arrested. She has previously suggested that Ikpe-Itauma is a "wizard".
She also makes the claim that End of the Wicked is actually "radically different from the pirated film wherein our ministries was wickedly libeled  thereof".
I've blogged on Ukpabio a few times in the past; feedback from her supporters and family includes the suggestions that I am a "cyber murderer", as well as being "wicked, crooked, crafty, poisonous, and dangerous to women in general".
(Hat tip: Bulldada Newsblog)
Filed under: Uncategorized