Headed "Christian Congress for Traditional Values"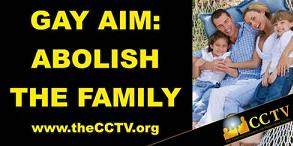 From Premier:
A well known Pentecostal church leader has resigned after admitting he's had an affair.

Bishop Michael Reid was the head of Peniel Church and school in Essex.

…In a statement Bishop Reid said:

"It is with great sorrow and regret that I have resigned from the church board and have stepped down from official duties. I confess that I have sinned by committing adultery. I recognize that I have failed in my duties and acted in a way that harmed the Church. I take full responsibility for my actions and so I resigned. I apologize to my wife and family and all of you whose trust I have betrayed and ask for your forgiveness and prayers."
The websites of Michael Reid Ministries and of his Christian Congress for Traditional Values are both currently down, replaced by a brief contacts page.
Outside Northern Ireland, British evangelicalism tends to be politically centrist and wary of authoritarian leaders. However, Michael Reid and his Peniel Church in Brentwood, Essex, are an exception. Reid – a former policeman – is more like a US "Christian Right" figure, and for the past few years he has campaigned for "traditional morality", arguing with figures such as gay-rights activist Peter Thatchell and protesting against Jerry Springer: The Opera. One 2000 Guardian report has further details:
…gays are "filthy perverts"; Muslims, Hindus and Buddhists are variously described in videoed sermons as "vile" and "foul heathens". Christians who do not work, Reid said in one recording, should be allowed to starve. He believes in capital punishment, and he would pull the trigger himself; lethal injection is too good for them, he says in one church video.
Reid has also been controversial for other reasons: ex-members of his church have complained of authoritarianism (although be careful: he's been known to sue over the "cult" label), and in the 1990s his church tried to derail a critical Channel 4 documentary through a bizarre scheme which involved hiring an actor to approach the documentary-makers with the story that he (the actor) was an intelligence agent and that the programme should not be made for reasons of national security (I blogged on this here). A few years after that, there was further bad publicity when members of the church were accused of joining the local Conservative Party en masse in order to back the local MP, Eric Pickles, against rivals in the party (Pickles is a former Tory centrist "wet" who moved to the right during the 1980s).
Thanks to Google Books, we're able to see these pictures from Reid's book Faith: It's God Given (2002):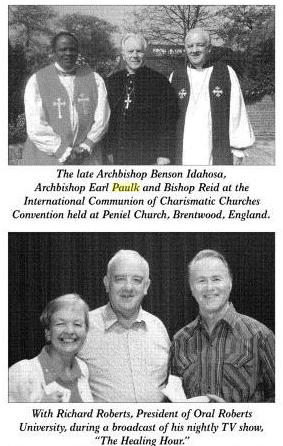 Interesting friends, and Reid's admission is another blow to the International Communion of Charismatic Churches; former presiding Bishop Earl Paulk was last year engulfed in numerous sex scandals, including allegations of sexual abuse. Richard Roberts, meanwhile, was recently forced to resign from the presidency of Oral Roberts University over claims of financial mismanagement. Reid himself has long-standing links with Oral Roberts and ORU.
UPDATE: MediaWatchWatch recalls the work of the CCTV:
The CCTV has been providing us here at MWW with pleasingly whacky Christian fodder since its inception in March 2005. But they really showed their hateful side with their Gay Aim: Abolish the Family campaign which included posters and a video.
UPDATE 2: Ex-members speak out here.
UPDATE 3: Charismatice leader Colin Dye distances himself from Reid.
(Thank you to Michael Reid Miseries for the tip-off, and to MediaWatchWatch for the top picture)
Filed under: Uncategorized