Interfax-Religion reports that Belorussian dictator Alexander Lukashenko has delivered a bullish Easter message, in the Cathedral of the Holy Spirit in Minsk:
Lukashenko stated 'those who seek world domination try to trample down our country and make the Byelorussians reject their religious roots, traditions and culture.'

'We are not going to blindly copy an alien experience and way of life, especially today when it is evident that many principles imposed on us do not fortify but rather destroy our moral and religious values'.

…He also gave a high appraisal to the role of the Orthodox Church, 'which in all times has always been with her people, sharing with them the joy of gains and the bitterness of losses, always defended the interests of the Fatherland and served the cause of unity and consolidation of society'.
Well, the Orthodox church has certainly "defended the interests" of Lukashenko: a few weeks ago I noted that Moscow Patriarch Alexy II had in 2002 awarded him with the Order of St. Sergius of Radonezh, "for strengthening unity of Slav peoples".
So how is "Father" protecting Belarus from the malign influences of outsiders? Christian Solidarity Worldwide has the low-down:
A prominent human rights activist in Belarus was arrested, tried and sentenced to 10 days imprisonment, on Friday, 24 March, for organizing an "illegal religious activity."

Sergey Shavtsov, a lawyer who represents most of the Protestant church unions in Belarus, and who authored the "White Book," issued in 2002 which documented violations of international law on religious freedom in Belarus, was detained by state security forces after taking responsibility for organising an inter-denominational conference featuring an American humanitarian aid worker.
Further charges may lock up Shavtsov for two years, while the other conference participants are at risk of six-month sentences. Also,
…Shavtov, who is married and has two children, is the second person in Belarus to be convicted for this offence which was made a crime under legislation passed in October 2002 and later amended in November 2005. The first was Pastor Georgi Vyazovsky of the Minsk-based Christ's Covenant Reformed Baptist Church who was sentenced to 10 days imprisonment for conducting religious worship in his home on March 3.
Meanwhile, Forum 18 notes that a Pentecostal leader is facing a fine for organising a Bible study in his own home, and that other church leaders have suffered harassment. To get the full story, Forum 18 called up Tatyana Zhitko, head of the local "Ideology Department":
"Why are you calling me?" she complained. "I don't know your publication and I'm not prepared to give you any information."
As I noted previously, satire is also seriously circumscribed in the country. For example, this cartoon is one of several accused of "offending the honour of Lukashenko":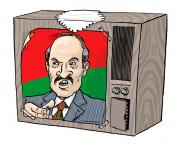 Further details about what is going on in the country can be found at the Belarusan American Blog.
Filed under: Uncategorized | Leave a comment »