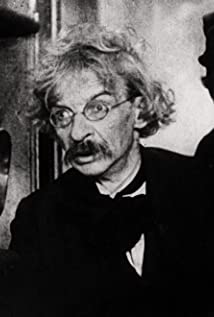 A while ago I was watching the Carl Dreyer film Vampyr (1932), and I was intrigued by the participation of a man billed as Jan Hieronimko, who played an evil village doctor who assists the vampire but comes to a floury end suffocated in a mill. This was Hieronimko's only acting credit, having been spotted for the role by Dreyer's casting assistant, reportedly on the Paris metro. According to the Eureka! Blu-Ray commentary by Tony Rayns, Hieronimko was an academic, but there aren't many details about him online beyond his dates on the IMDB: born in Warsaw 1863, died Paris 1942. Now, after a bit of Googling and running some passages of Polish through Google Translate, I have some extra information.
First, Hieronimko's birth name was apparently Hieronim Kohn, although there two alternative spellings, of Hieronim Kon and Hieronim Cohn. Hieronimko was a nom de plume he used as a journalist, which then formed the basis for Jan Hieronimko as his proper name. However, by the time he died he was using the name Jérôme Hieronimko – "Jérôme" of course being the Francophone version of Hieronymus.
Some of Hieronimko's journalism can be found in scans of old Polish-language newspapers. He was a correspondent for Robotnik, but he also contributed to other papers, one of which introduces him as having relocated to Paris in 1905 and joined a university faculty. A genealogy website has uploaded his funeral notification, which describes him as follows:
Homme de Lettres
Président de l'Assistance aux Prisonniers Polonais en France
Commandeur de l'Ordre de Polonia Restituta
Officier de la Légion d'Honneur
He died on 26 June, which was the month in which Paris's Jews were ordered to wear the yellow star prior to deportation, although perhaps Hieronimko's "Kohn" origins were unknown to the Nazi occupiers. He was buried in Montmorency cemetery. He discussed his work with Polish prisoners here in 1937.
More details about Hieronimko are apparently available in Volume 3 of a reference work called Słownik biograficzny działaczy polskiego ruchu robotniczego (Biographic Dictionary of Activists in the Polish Labour Movement), in an entry by Alicja Pacholczykowa. However, as noted by article in the journal Przegląd polonijny (Volume 27 2001), Pacholczykowa confused Dreyer with Julien Duvivier and was under the impression that the film was called Professeur Vampire. Google Books Snippet view provides only glimpses of these sources, otherwise I would provide fuller references.
A further interesting detail from the funeral notice is that Hieronimko's son-in-law was named André Capagorry. This is the name of a post-war colonial administrator in French Africa, who was the last governor of Réunion (where he died in retirement in 1981). Apparently he had a Polish wife, so it is likely that this is the same person (1). Unfortunately, his wife is unidentified other than as "Mme Capagorry", although a 1958 notice in Bulletin officiel des annonces civiles et commerciales (again via Google Books) refers to
Nomination , en qualité de gérante , de ' Mme CAPAGORRY , née STANKIEWICZ ( Jeanne – Angèle )
Perhaps this is someone else, but two Polish Madame Capagorrys seems unlikely. Presumably she switched "Kohn" for "Stankiewicz" for survival reasons, just as her father had adopted a form of his given name as his new surname.
There was a Hieronim Cohn Publishing House in Warsaw in the 1890s and 1900s, specialising in Yiddish translations into Polish. I haven't been able to discover if this was also associated with Hieronimko.
Footnote
1. In French Congo, the couple owned a lowland gorilla named Mo Koundje, also known as Mok, who was eventually sold to London Zoo and whose taxidermy mount is now in Leeds.
Filed under: Uncategorized | Leave a comment »