There may be a number of reasons not to vote Conservative in the next UK election, but "Jimmy Savile supported the Conservative Party" is not one of them – especially when fake images are brought into the argument. Two examples that are being widely disseminated on social media are shown below.
The first is Savile wearing a t-shirt in 1985, on which is written "Don't get your fingers burnt"; apparently, the slogan related to a government straw and stubble disposal campaign. This image has now been doctored so that the t-shirt now says "Vote Conservative" and bears the Conservative Party's old torch logo. The doctored image also carries the mysterious words "Sket Chag" in the bottom-right corner, barely visible – this is part of a logo identifying the creator as one "Sketchaganda", the name used by a satirical artist.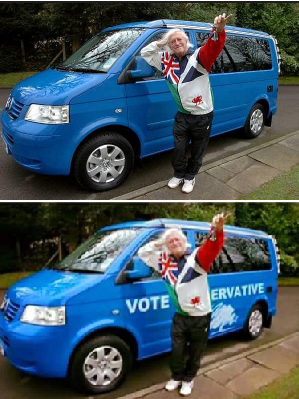 The second picture is of Savile with a van – a "California" made by Volkswagon, apparently published by the car-marker as an advertisement. This van has been doctored into a Conservative Party election campaign vehicle. That one has been around for a while, and was noted as a hoax by the Daily Telegraph in early 2016.
There are, of course, genuine photographs of Savile with Conservative politicians, most notably Ted Heath and Margaret Thatcher. However, such photos reflect Savile's status as a celebrity campaigner and his access to government; they do not indicate that Savile was publicly aligned with the Conservative Party (Savile was later photographed with Tony Blair). Nor, despite frequent postings to conspiracy websites, do they demonstrate that these politicians must have been involved with child sex abuse.
Savile has been linked to claims of "VIP Westminster abuse" by three individuals:
1. Operation Midland's "Nick" says that he was abused by a group that included Savile, and that Savile was "sadistic". Harvey Proctor was astonished and exasperated to be asked whether he had known Savile.
2. Jimmy Savile's nephew Guy Marsden spoke affectionately of his uncle following his death in 2011; however, two years after the broadcast of the Savile allegations in 2012, he suddenly decided to relate how he had found his uncle among paedophiles after running away to London. Then, after allegations were made against Ted Heath in 2015, Marsden added that the group had apparently included Heath.
3. The American conspiracy theorist Alex Jones says that according to his "sources", Savile would procure girls for Heath, and that these children would be ritually sacrificed in front of him.
Filed under: Uncategorized