Fake memoir Satan's Underground still being sold by publisher
At the Daily Beast, Pat Blanchfield compares the ethnic fraud of Rachel Dolezal to Bruno Dössekker, a Swiss man who posed as "Binjamin Wilkomirski", a Holocaust survivor:
Reading between the lines of Bruno Dössekker's actual biography, you can't also help but notice several early traumas, from his abandonment by his mother to numerous, extremely plausible suggestions of abuse while in that orphanage. It's here that Wilkomirski/aka Grosjean/aka Dössekker's story and that of Dolezal converge—and where we can get a hint of what might have motivated both of them, if only in part.

Both figures present themselves as persecuted individuals, horribly victimized—and they co-opt the experiences of the victims of actual historical traumas to that end. Why? Because our compassionate and proper first impulse should be to believe them first and vet them later—as our own country's history of moral panics over Satanic Ritual Abuse underscores, for better or for worse.

In fact, one of Wilkomirski's biggest defenders, a woman who claimed to have met him in the camps, actually turned out to be a fake survivor of both the Holocaust and Satanic Ritual Abuse…
The link takes us to the Wikipedia entry for Laurel Rose Willson, who posed firstly as Lauren Stratford, and then as Laura Grabowski. The material in the entry is derived from investigative articles (here and here) by Bob & Gretchen Passantino and Jon Trott, published by the evangelical Cornerstone magazine in the 1990s. Trott was also the co-author (with Mike Hertenstein) of Selling Satan: The Evangelical Media and the Mike Warnke Scandal, which exposed how Warnke had lied about his past in a best-selling Christian paperback in which he had claimed to be a former high-level Satanist. Selling Satan also contains an account of Willson's Satanic Ritual Abuse claims (on pages 271-279).
Dössekker's bogus memoir and its subsequent debunking received considerable journalistic and literary interest at the time; however, his association with Willson for the most part gained only passing attention. The two corresponded, and it would be fascinating to know the dynamic: clearly, Willson recognised Dössekker as a fellow-fraud, and by allying with him she was also helping herself – but was this ever explicitly acknowledged between them?
Willson's first book as Lauren Stratford was entitled Satan's Underground, and it was published in 1988 by Harvest House, a well-known US evangelical publisher. She was championed by Johanna Michaelsen, who claims to be an ex-occultist and who is related by marriage to Hal Lindsey. Lindsey himself had achieved fame as the best-selling author of The Late Great Planet Earth, which linked current affairs and the Cold War to Biblical prophecies, and he had followed up with Satan is Alive and Well on Planet Earth, on the evils of occultism. Evidence that Stratford's book was a hoax provoked bitter criticism from Michaelsen and Lindsey, who asked why evangelical journalists would want to debunk an evangelical book that had led people to Jesus.
However, as Trott and Hertenstein relate (page 278):
…as public pressure mounted, the publisher backed down and – after printing 133,409 copies of Satan's Underground – withdrew the book and its sequel, I Know You're Hurting. A statement released on January 26, 1990, failed to mention any reason for removing the books from circulation other than they were controversial… Some time later, Harvest House quietly released the rights to Satan's Underground to Pelican Books, a Louisiana publisher.
And a look at the website of the Pelican Publishing Company shows that Stratford's books are still available, along with a rather partial bio-blurb that hasn't been updated since her death several years ago:
Agencies such as the National Center for Missing and Exploited Children, the Cult Crime Impact Network, and the National Coalition Against Pornography have used Ms. Stratford's expertise and experience in recognizing satanic ritualistic abuse. Ms. Stratford also provides valuable assistance in the counseling and treatment of survivors of satanic crimes and child abuse.

…Ms. Stratford, a member of the Los Angeles County Women's Commission Task Force on Ritual Abuse, helped edit the country's first government-sponsored information booklet on the topic. She is also a member of Make Today Count, an international support group for people with life-threatening illnesses, and has organized a support group called Victims Against Sexual Abuse…
I have a copy of the Pelican edition of the book, printed in 1993: it comes with a foreword by Michaelsen and an Aferword by three clinical psychologists: Lyn Laboriel, Catherine Gould, and Vicki Graham Costain. There are also a number of endorsements: from Kenneth Wooden, a reporter with ABC ("a work of national importance"); Hal Lindsey ("absolutely incredible and true"); Judith Reisman, the notorious anti-Kinsey obsessive* ("only too credible… it is even more crucial that we listen to her story"); Mike Warnke (a "story… that needs to be told); Larry Jones ("literally a godsend); and the psychologist Gould, who described her as "a survivor twice over. She has survived not only the horror of ritual abuse, but also a vicious backlash aimed at discrediting both her and her story".
This was before Willson/Stratford reinvented herself as Laura Grabowski, which one would have thought would have been the last straw for even the most bone-headed enthusiasts. Yet so far as I can see there have been no mea culpas from those who promoted the original fraud and attacked the investigators, and the blurbs are still visible on a 2003 re-issue viewable on Amazon. Pelican also sells her follow-up book, which comes with a Foreword by Stormie Omartian, author of the best-selling Power of a Praying… series.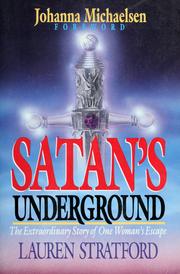 Footnote
*Reisman's anti-Kinsey polemics have brought her into an association with the British journalist Tim Tate, and the two shared a platform in Croatia in 2013. Tate's 1991 book Children for the Devil: Ritual Abuse and Satanic Crime recently came under renewed attention due to a passage featuring an interview with a vicar about allegations of ritual abuse against an unnamed MP.
Filed under: Uncategorized | 1 Comment »