Nigerian sceptic Leo Igwe has drawn attention to a Facebook post by a certain Pastor I.C. Ezeugwu, in which Ezeugwu describes an event he held in "a remote village in Edo State":
I titled the crusade "Operation Kill the Witches". This title was necessitated as a result of the activities of witches in that village which included destroying the destinies of young people.

…Ladies and gentlemen, JESUS rules the world. By the anointing of God upon my life and by the power in the Blood of Jesus, I release your destinies and your glory, and I command any hand holding your progress and advancement in life to wither in the name of Jesus. Any witches/wizards and any wicked uncle/aunties, any man/woman holding your destiny and glory, let the fire from heaven consume and destroy them one after the other in the mighty name of Jesus.
The post is dated from August 2013, although it continues to garner "Amen" comments. As of today, the post has 9,631 "Likes" and 3,775 "Shares"
Ezeugwu's post is illustrated with a photo of what appears to be a dead human figure with wings; presumably, this is supposed "evidence" of the existence of witches: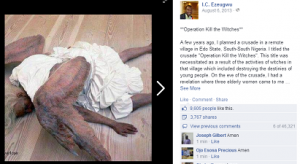 That's not an image I have seen before, although apparently it's been doing the rounds for a while; in May 2013, Pulse234 published it under the heading: "PHOTO: Witch Woman With Wings: Real or Fake?"
It  in fact shows an art piece called Angel. It was created in 2008 by two Chinese artists, Sun Yuan and Peng Yu. The photo was taken while the model was on display at the Saatchi Gallery in London. It's a "life size sculpture in fibre-reinforced polymer and silica gel".
Filed under: Uncategorized