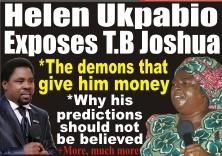 A number of Nigerian websites have noted the front cover of a magazine called Yes! International (17 September 2012), announcing an interview in which Helen Ukpabio "Exposes T.B. Joshua". Subheadings promise details about "the demons that give him money" and "why his predictions should not be believed", as well as "more, much more". The interview does not appear on the magazine's website, so it's impossible to tell whether the interview focuses on Joshua or whether the headline refers to statements made in passing from a more wide-ranging piece.
Neither Ukpabio nor Joshua are uplifting characters to have to ponder.Ukpabio is known for her aggressive fear-mongering over the existence of child-witches; as well as deploying lawfare, she has sent church members to disrupt a conference on the problem of child-witch stigmatisation, and attempted to shut down a hostel for children which she claimed was being run by a "wizard". Critics – including this blog – have also been subjected to crude abuse on a website created by her webmaster and endorsed by her.
Joshua, meanwhile, makes extravagant claims to supernatural powers of prophecy in relation to global and African news events. A vague reference to the death of a president in Africa earlier this year preceded the demise of President Bingu wa Mutharika of Malawi; Mutharika knew of the prediction, and it is perhaps possible that it had a psychosomatic effect on him. However, in most cases Joshua's supposed power is demonstrated through heavily-edited videos promoted after particular incidents; T.B. Joshua Watch shows that deceptive editing methods are employed.
Joshua is a more powerful figure than Ukpabio. Forbes names him as one of the "The Five Richest Pastors In Nigeria", and his followers include politicians; a report last year in the Zimbabwe NewsDay stated that:
A number of senior African politicians and businesspeople have visited the popular Nigerian prophet including suspended Zanu PF legislator Tracey Mutinhiri, Prime Minister Morgan Tsvangirai, Zifa president Cuthbert Dube, former South African president Nelson Mandela's ex-wife Winnie Madikizela-Mandela and Malawian Vice-President [now President] Joyce Banda.
However, Joshua also sits somewhat apart from other Nigerian pastors; in 2002,  Charisma magazine reported that
Pastors of Nigeria's largest churches say Joshua mixes Christianity with occult practices. During a leadership summit held near Lagos in July, they firmly denounced him while discussing the issue with a group of Americans that included theologian C. Peter Wagner, Colorado pastor Ted Haggard and prayer leader Chuck Pierce.

…The summit was held at the world's largest church building, Winner's Chapel in Ota, pastored by Bishop David Oyedepo…. The Nigerian leaders included Oyedepo; Mike Okonkwo, head of the Pentecostal Fellowship of Nigeria; Enoch Adeboye, general overseer of the fast-growing Redeemed Christian Church of God; and Ayo Oritsejafor, pastor of the 26,000-member Word of Life Bible Church in Warri.
In this context, Ukpabio's position on Joshua simply follows the majority consensus.
Charisma also noted that Joshua does have some international links:
…several prominent charismatic leaders have visited Joshua's compound and returned with favorable impressions.

These include Canadian renewal leader John Arnott, Pittsburgh pastor Joseph Garlington, Louisiana evangelist Marvin Gorman and New Zealand minister Bill Subritzky.

…Arnott also noted that a South African evangelist, Kobus van Rensburg–who has been heavily influenced by Joshua–has established a healing center in the town of Stilfontein, near Johannesburg. This month, van Rensburg will be speaking at Toronto Airport Christian Fellowship, which Arnott pastors.
Filed under: Uncategorized | 19 Comments »