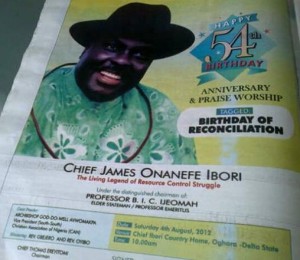 (Photo taken by Akin Akintayo, who has some scathing commentary here)
Nigeria's Daily Times discusses recent birthday plans for James Ibori, former Governor of Delta State and currently serving 13 years in prison in the UK for committing massive fraud:
In a statement on Thursday, the James Ibori Political Associates (JIPA) said the celebration – 'Birthday of Reconciliation' will feature a "praise and worship service presided over by three eminent men of the cloth".

Chairman and Secretary of the group, Thomas Ereyitomi, and Jaro Egbo, explained that "the South South Vice President of the Christian Association of Nigeria (CAN), Archbishop God-Do-Well Avwomakpa, would be the guest preacher; while Rev Gbejero and Rev. Oyibo would also minister".

A full page advert was taken out in a national daily to announce this celebration. In the advert, the former governor was described as "The Living Legend of Resource Control Struggle".
Certainly, Ibori knows a thing or two about "resource control struggle": he has admitted to stealing £50 million, and even that figure was described by the judge as being probably "ludicrously low". Rev Oyibo is Gideon Oyibo, chairman of CAN in Delta State; Rev Gbejero is Stephen E. Gbejoro (sic for spelling), a local televangelist. The event was cancelled a few days after this report, due to the death of Ibori's brother.
A similar event was held last year; Elombah reported:
The gathering marked Ibori's birthday through speeches, prayers by several pastors and finally dancing as music was provided by a live band… Several pastors quoted the bible copiously to show that great men have suffered greatly in the hands of their enemies, only to be vindicated by God in the end. God will vindicate Ibori, they prayed God to save Ibori from the hands of his political enemies.
And the year before that, Gbejoro had given a thundering sermon at a birthday dinner, as reported in the Vanguard:
WARRI BENEFICIARIES of the philanthropic gestures of former Governor of Delta State, Chief James Ibori, who now exhibit greed and ingratitude should expect the wrath of God Almighty.

A Warri-based clergy, Rev. Stephen Gbejoro,  made this assertion, while speaking at a dinner organised by the Pro-Ibori Group to mark the 52nd birthday of the  embattled former Governor, saying, God always appreciates those who show gratitude for any assistance rendered to them by anybody.
Avwomakpa and Oyibo are also close to the current governor of Delta State, Emmanuel Uduaghan, who is Ibori's cousin. Here's an undated report (probably from 2008) on the Office of the Governor's website:
In an exhortation, the state chairman of Christian Association Nigeria (CAN), Archbishop God-Do-Well Avwomakpa described Dr. Emmanuel Uduaghan as a man who has emulated the biblical King David in a show of constant thankfulness to God.

The CAN Chairman, who admonished traditional rulers to always remove their head wears when in the presence of God as 'Christ is the King of Kings', said every man that honors God through thanksgiving must get the favour of the Almighty.
Uduaghan was a strong supporter of his relative and predecessor; an article byMichael Egbejumi-David at Sahara Reporters has some background detail:
…On 1 October 2007 when a court in London initially ruled that Ibori's seized UK assets be released to him, same day, back in Government House, Uduaghan hurriedly arranged a thanksgiving service.  The usual suspects were all in attendance.  Leading that service was one Reverend God-do-well Avwomakpa, the then Delta State Chairman of the Christian Association of Nigeria.  During that service, Uduaghan announced that Ibori was a wealthy man before he became governor.  He added, quite heartlessly, that Ibori's eight year sojourn in Government House impoverished the man as Ibori's businesses suffered. 
This highlights the dynamic between political and religious "Big Men" in Nigeria; a profile of Uduaghan by Victor Sorokwu in the People Monthly (also undated, but probably early 2011) adds that:
Another strategy adopted by Governor Uduaghan in running the State is involving Christian and religious leaders as go-between government and the people. The governor had consulted and promised the leadership of the Christian Association of Nigeria (CAN) that if reelected into office, he would consult Christian leaders from time to time in the governance of the state. An accord was thus reached between the governor and notable church leaders like the National President of CAN, Pastor Ayo Oritsejafor, the state Chairman of CAN, Arch-Bishop God-Do-Well Awomakpa, among others. Moreover, Governor Emmanuel Uduaghan has built a strong spiritual bond with the Archbishop Metropolitan and Primate of Church of Nigeria Anglican Communion, Most Rev. Nicholas Okoh, whom he referred to as a strong spiritual pillar of his administration and a strong supporter of his leadership of the state.
CAN has received generous payback for its support; The Pointer reported in May that:
ENCOURAGED by the prudent management of the N50 million Micro-credit loan given by the Delta State Government to the state council of the Christian Association of Nigeria (CAN) for the empowerment of its members, Governor Emmanuel Uduaghan has announced an additional N100 million micro-credit facility to the body.

…He also explained that the gesture informed the appointment of a Catholic Priest as Chairman of the State Scholarship Board, adding that "Christian's worked hard to ensure that I become governor, so  I have no apology asking them to nominate people into government".

…Speaking after administering  the relevant oath on the new Delta State CAN chairman, Rev. Gideon Oyibo, and members of his Executive,  South-South Chairman of CAN, Apostle Geofrey Numbere, urged them to improve on the achievements of the out-gone Executive, led by Archbishop God-Do-well  Avwomakpa.
Footnote
The latest issue of Private Eye magazine (1320) has a long special report by Richard Brooks on how Ibori laundered millions of pounds through British banks, despite safeguards which should have triggered warnings:
The relentless deposits of cash at HSBC branches across the capital, accompanied by transfers to the accounts of somebody known to be a "politically exposed person" (PEP), and thus subject to even greater levels of scrutiny, would not have survived the most cursory inspection and ought to have raised the alarm at HSBC and Barclays… Instead British high street banks facilitated the most sumptuous lifestyles at the expense of the Nigerian people.
Apparently the HSBC branch at East Ham "proved particularly receptive, swallowing up £90,000 cash over eight days in December 2003, including £35,800 on a single visit".
The Eye also notes a "bizarre intervention" made by Tony Baldry MP in 2010. Baldry
…wrote – in his capacity as a barrister – to the then foreign secretary David Miliband on the instructions of one of Ibori's solicitors, Sarosh Zaiwalla. Baldry's own libel solicitor, later objecting to a blogger's reference to the story, described the letter's purpose as pointing out that once the case was resolved 'relevant agencies might want to reflect on lessons learned'.
The blogger was Richard Wilson, who writes more about the matter here. Baldry wanted it made clear he had acted for Ibori in his capacity as a barrister, rather than as an MP; the Independent on Sunday had issued an apology for incorrectly suggesting Baldry had engaged in "lobbying". Richard draws attention to some commentary from the time by David Allen Green in the Lawyer.
Filed under: Uncategorized | Leave a comment »